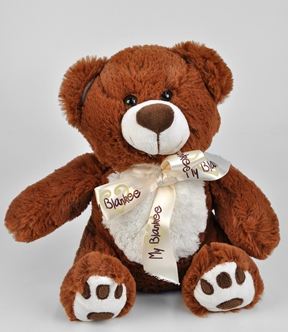 I mentioned this site once before and it's slowly becoming my favorite daily deals site…. Modnique and remember I told you they give you $5.00 when you sign up ?? Well you can also save $10 with the coupon code STAR so really you'll save $15 off your first purchase!!!!
Today they have some really cute My Blankee Teddy Bears that you can get as low as $1.95 shipped!  These would be great to toss in with a baby shower gift!  Here is how:
They have 3 different size bears with 3 different prices…. $8, $10 and $12.  Shipping is $7.95 for all 3 sizes.
My Blankee Teddy Bear, On Sale $12.00
Shipping $7.95
Use Coupon Code STAR and save $10.00
Use First Time Customer credit and save $5.00
Final Cost: $4.95
The $8.00 bear and the $10 bear would be $2.95 with shipping (the coupon will only take off $8.00 for the $8.00 bear).
Item Details:
About the Brand: For six years, My Blankee has luxuriously embraced baby and children's fashion while simultaneously upholding comfort, security and quality in its lines. Designer Serge Soussan was inspired to develop a line of hypoallergenic products after his son, Luca Charles, was diagnosed with asthma and the skin condition eczema shortly after his birth in 2002. He wanted the line of blankets, clothes and accessories to accommodate Luca and others who share the same condition. Celebrities like Katie Holmes, Jessica Alba, Gwen Stefani and Jennifer Garner are fans of My Blankee.
And here's another cool thing about Modnique…. you can earn credits from inviting friends and then you'll earn credits when they invite friends and also when they invite friends!  Of course the credits are only issued after a purchase is made but by sharing with your friends you can earn up to $30 more in credits!
I will keep you posted as I find HOT deals to use your $5 credit on.  The coupon code STAR expires 11/30/10.
thanks Frugal Shopping with Julie