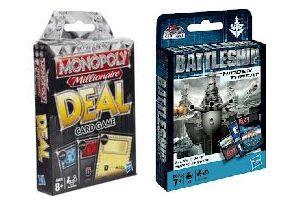 Monopoly Millionaire Deal Game
It's a brand new way to play the classic property trading game! Be the first in this card game to get a million dollars in your bank pile and win Monopoly Millionaire Deal! Pick up cards when it's your turn and play any combination of Money, Action and Property cards. Don't hesitate to steal a property or set of properties from another player if you get the right action cards, but hang on to the Just Say No card in case someone tries to do the same to you! Build up property sets, gather piles of money and keep wheeling and dealing to make that million!
Win the Monopoly Millionaire Deal card game by making a million dollars! Earn and swap properties and charge other players rent! Steal properties or sets of properties from other players when you get the right Action card! Just Say No card protects you from other players' thefts!
Box includes 106 cards, 4 Quick Start cards and instructions.  For 2 to 5 players ages 8 and up.  Costs about $5.99.
Battleship Hidden Threat Card Game
Attack and Defend to sink the enemy fleet!! It's all of the fun of the classic Battleship game, with exciting card play action! Play peg cards to hunt down hidden enemy ships, while your opponent does the same. Boost your attack and defense with special cards and ship powers. Be first to sink the enemy fleet, and you win the game!
Box includes 76 playing cards, 4 reference cards and rules. For 2 players ages 7 and up. Costs about $5.99.
These are both great card games to take with you when you are traveling either by plane or car.  My kids always need something to occupy them and since they love Monopoly so much, they will really enjoy this game.  These are both perfect for stocking stuffers as well!
Disclosure: I received a Free product for review. My opinions are 100% mine.