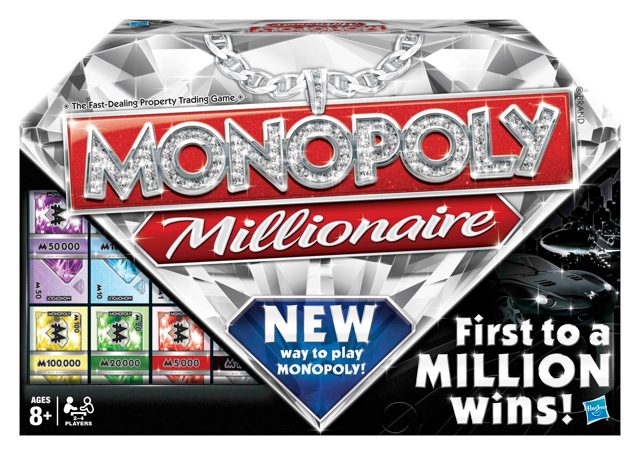 Ready for some millionaire flair? MONOPOLY MILLIONAIRE gives MONOPOLY fans the ability to live the millionaire lifestyle – complete with stacks of cash (instead of single bills) and all-new, extravagant movers. The game introduces a new way to play, encouraging players to upgrade their lifestyle as they race to accumulate wealth and become the first to earn a million dollars – automatically winning the game.
As you move across the luxury-themed game board, you have the opportunity to upgrade your salary and mover – you may start off with a paper airplane, but you'll be flying high in a private jet by the end of the game. All-new lifestyle and fortune cards keep the game moving as money shifts hands and players compete to collect properties and become the first millionaire!
Buy It
Right now you can get this game for under $15.00 on Amazon with Prime Free Shipping!
I've always been a fan of Monopoly and all the changes they've made and I love what they've done to it this time!  This is probably my favorite edition so far.  I love how the paper money is now stacks of money (not just that but easier to handle being made of thick cardboard) and the board is a little smaller – only 8 spaces wide.  But my favorite part of it is the addition of the fortune cards.  It really does help move the game along faster.  Let's face it, Monopoly can be one of the LONGEST games ever.  But not any more with this addition.
Another nice highlight is how much the game changes as you go along.  Each time you pass go you not only collect your salary (which is pretty hefty at 150,000!) but you can also upgrade your vehicle to a bigger and better one. Then when you upgrade, you get a bigger salary.  So it's ever changing through out the entire game.  So much more fun.
Disclosure: I received the same prize as the winner for review. My opinions are 100% mine.