This post is Sponsored by MGA Entertainment but my opinions are 100% my own!
Have you seen the Moxie Girlz™ Poopsy Pets™ doll?  They are pretty popular with girls ages 7 and up. This summer my girls are really into playing with Dolls.  They've got a little town set up in their rooms where all the dolls live.  They don't have a doll house but make one using their cubbies in their rooms.  So cute and I love their imagination.
We were walking through the store one day recently and we happened to be in the toy area and walked down the aisle where the Moxie Girlz were.  I already had a doll for review but hadn't given it to them yet.  Then all of a sudden my little one yes –  "OMG it's the pooping doll"!!!  She was referring to the Moxie Girlz™ Poopsy Pets™ – and just to clarify the animal poops, not the doll.  Then they starting giggling like crazy.  I asked why and they could barely tell me that the animals poop rainbows, glitter and jewels!
What?
Once the giggles started, they didn't end for a while.  If you have girls then you know what I mean.
They tried to convince me that they really needed one of these dolls but I told them we weren't there to buy toys and they had enough.  That's because I knew i had one at home!  So when we got home, I pulled out the Moxie Girlz Poopsy Pet doll I had and the giggles turned into screams!!!
Moxie Girlz™ Poopsy Pets™
The Moxie Girlz™ are adding magical four-legged pals to its circle of friends. Avery™, Lexa™, and Kellan™ each come with their own Poopsy Pet that "poops" jewels, glitter or rainbows!
They love the doll and are trying desperately not to lose the "poops" or jewels because they love when it poops.  Sometimes I wonder if I really have boys and not girls.
I realize that the idea of having a pet that poops may not be something that everyone likes, but dolls bring out an entire world of make believe and I feel if a child has an imagination, then they'll go very far.  My girls are huge with imagination play and while I'm not big on them talking about poop, I'm glad they have dolls that interest them enough to play so much.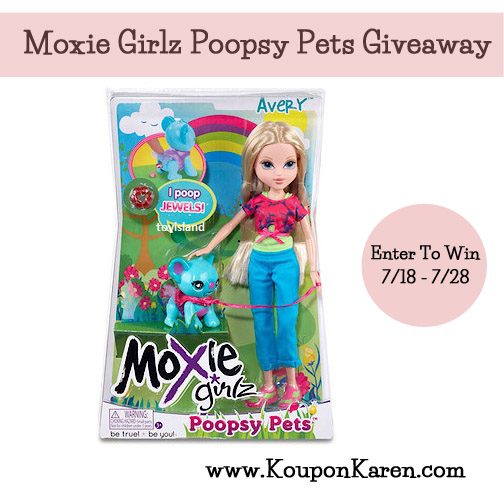 (1) Koupon Karen reader will win a Moxie Girlz™ Poopsy Pets™.

To enter the giveaway, use the Giveaway Tools widget below. Email and feed subscribers will need to click-through to the site to enter the giveaway.
As a reminder, comments left on Facebook or Twitter will not be included. You must follow the instructions on the widget about the proper way to enter. Of course Facebook is in no way associated with this giveaway!
Disclosure: I received a Free product for review. My opinions are 100% mine.