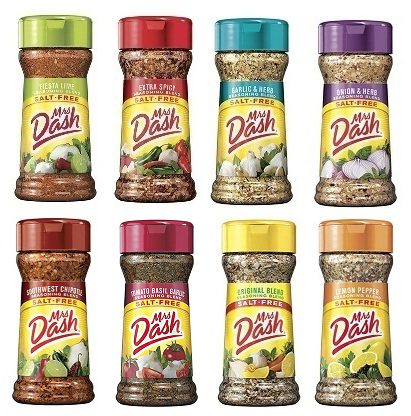 Product Name: Mrs. Dash Salt Free Seasonings
Product Information: "Mrs. Dash is a great way to add flavor and spice to your recipes without all of the salt. Each one of the 14 Mrs. Dash seasoning blends is salt and MSG-free, but FULL of flavor! Each unique blend is created from a mix of 14 natural herbs and spices, so you can add bold, robust flavor to any dish. And since Mrs. Dash® Seasoning Blends have always been salt-free with no MSG, you can cook great-tasting meals full of just one thing – mouth watering flavor! Mrs. Dash®… Salt-Free, Flavor-FULL."
Purchase Information: You can purchase them in grocery stores nationwide.
Purchase Price: $3.09 each
My Thoughts: I'm not a very big cook, though  my husband wishes I was, but I do cook often enough and I'm always looking to find ways of making healthier foods.  But part of making healthy foods is finding ways for them to taste good!  And lots of flavor will make anything taste good.  That's where Mrs. Dash comes in.  Not only is there a BIG selection of flavor but they are all salt-free which is important in cooking healthy!
I received a variety of Mrs. Dash Salt-Free seasons and while I really enjoyed pretty much all of them my favorites were the Garlic & Herb and Onion & Herb. I've used them the most since I received my collection of spices.  Both of them have been great on Chicken and Sauted Veggies along with salad!  I only use oil & vinager for my salad dressing (I'm on Weight Watchers and don't want the points from salad dressings!) so instead of adding salt I've been using these two seasonings and the flavor is awesome!  I put the Garlic & Herb on the roast I made this past weekend and the flavor again was amazing!
The tomato basil garlic I used in my meatloaf and it gave the flavor a real nice boost!  I also put it in my sauce in place of all the seasonings I normally use and it was a great.  Easier to use one thing than a bunch.  It's a nice time saver for a busy mom.
What we LOVED about Mrs. Dash Salt Free:
I loved how much flavor they gave without adding salt. I have a slight blood pressure problem so my doctor really wants me to stay away from using salt and these Mrs. Dash products really help because you don't need salt!
I love how one season replaced a bunch of others, so less to keep in the spice cabinet and less time standing at the stove adding spices.  Anywhere I can save time, I will!
The price………… $3.09 for a spice that is so versitile is a NICE buy to me.  Especially if I find it on sale and have a coupon.
What we Didn't Like about Mrs. Dash Salt Free:
I found out with a few of them you don't always need a lot to get a lot of flavor. It's a bit of trial an error and they are all different.  What makes that bad is I used more than I needed too, therefore wasting it! 🙂
We used a couple of them on steaks that we grilled…. the Southwest Chipotle and Garlic Herb. We were a bit disappointed with the lack of flavor from the seasonings. We expected more flavor but perhaps this was one of the times where we didn't use enough, though my husband swears he put plenty.
If you're looking for more ways to use Mrs. Dash seasonings, check out their recipe section… lots of GREAT ideas!
WIN IT
(1) Koupon Karen reader will win a set of 13 Mrs. Dash Seasonings!!

Entry is simple! You just need to answer the question below by leaving a comment on this site! You can even gain up to 5 bonus entries for doing each additional item listed (just make sure that you leave one entry for each one — up to a total of 6 comments). As a reminder, comments left on Facebook, Twitter or other posts will not be included.
REQUIRED ENTRY
Visit MrsDash.com and check out the seasoning blends then come back here and leave me a comment telling me which one you'd like to try most!
BONUS ENTRIES:
1. Follow @KouponKaren on twitter and tweet the following "I entered to #win Mrs. Dash Salt-Free Seasonings @KouponKaren You can too! https://wp.me/pMKCI-62Q #giveaway "
2. "Like" Koupon Karen on Facebook –> I have a new page so if you were previously my "friend on facebook" please like this page as well.
3. "Like" Mrs. Dash on Facebook
4. Comment on any other post on my blog (giveaway posts don't count) then come back here and let me know what post you commented on.
5. Sign up to receive Koupon Karen daily emails or add me to your favorite reader.
Details: This giveaway is open to US Residents and will remain open until April 16th at 11:59 p.m. EST . Any comments left after this time will not be counted. The winner will be selected randomly and will be notified via email and will have 48 hours to claim their prize.
Disclosure: I received a selection of Mrs. Dash Salt-Free Seasonings for my review. This did not influence my post and as always, my words are my own.