I grabbed a few things at CVS this week.  I had some Extra Care Bucks to roll over so I didn't pay very much for what I got. Plus I have a mail in rebate so I'm actually going to make money on this!
Here is what I scored from CVS: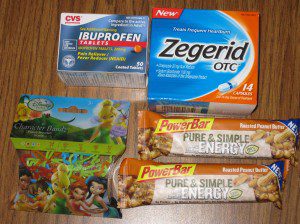 (1) CVS Ibuprofen 50ct, On Sale $3.99
(2) PowerBar, On Sale $.99 each
(1) Zegerid OTC, On Sale $9.99
Used $4.00 coupon
Used $15.00 in ECB's (from last week)
Total OOP: $2.20 (with tax)
Got back: $5.98 in ECB's
Total Saved: $22.80
Saved 91%

I will submit a rebate for $9.99 for the Zegerid OTC so my final Total OOP is NOTHING and I make $7.79 on this transaction.  If they deduct my $4.00 coupon then I'll make $3.79.  I'll take it either way!