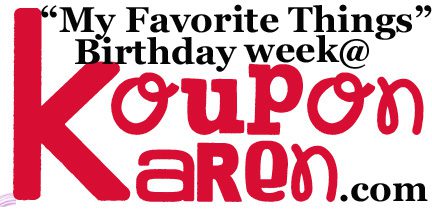 Today is my birthday and since parties are pretty common for Birthdays I thought this would be the perfect giveaway for today!
Here is Giveaway #3 of "My Favorite Things Birthday" week.
Product Name: SodaStream Home Soda Makers
Product Information: Making carbonated water and soft drinks is simple! Turn tap water into sparkling water in under 30 seconds, with no clean-up. Enjoy the freshness and convenience of homemade soda and protect the environment at the same time. No heavy bottles to carry, store at home or throw away. Fizz to your taste and add the flavor of your choice to make your favorite drink. Simple to clean and reuse. With a variety of colors and silhouettes, you'll be sure to find a soda maker to match with any decor.
There are 4 different models and I received the Genesis
for review.  The Genesis home soda makers offer the sleek, modern silhouette of the Pure home soda maker at a more affordable price. Turn water into sparkling water and soda in seconds with a Sodastream Genesis home soda maker.
Available in two colors: black and red.
Purchase Information: Khol's, Macy's, Sur La Table and various other regional stores. To find out more information check SodaStreamUSA.com
.
Product Price: There are 4 models:
My Thoughts: I was very excited to try this out and it arrived just in time for my daughter's birthday.  Along with the Genesis, they also sent me several bottles of soda for us to try.  My favorite one was the Diet Root Beer.  It was awesome.  The Diet Cola tasted like Diet Pepsi, rather than Diet Coke and the Lemon Lime was just like Sprite.  We were very happy with the flavors and had fun trying different sodas.
Besides tasting great, it also was super easy to use.  The machine doesn't even require any power.  Just fill the bottle with water, attach it to the machine and push the carbonation button down 3-4 times.  At that point you have carbonated water but you can then add the soda flavors.  Just fill a cap full (to the fill line) and slowly pour it into the bottle.  Once you close the bottle you just need to gently tip it side to side to give the flavor a little mix.  That's all.  So simple anyone can do it.
We don't drink a lot of soda at our house but when we have people over, I now how a variety to share and a conversation piece! Everyone loves it.
How would you like to own your own Soda Stream??
Giveaway:  (1) Koupon Karen reader will receive the Fountain Jet Starter Kit
(approx. $100 retail value.) It includes the your choice of black/silver, white or red/silver Fountain Jet, CO2 to make over 100 liters of soda, 2 reusable carbonating bottles, a sample pack of flavors, and 3 full-sized flavors of your choice.
How to Enter: Just leave me a comment and tell me why you want to win the Fountain Jet Soda Lover's Start-Up Kit!  That's all!
Extra Entries: Once you do the above mandatory entry you can do any of the following an earn up to 4 more entries:
Tweet about this giveaway and be sure to include @kouponkaren
Blog about this giveaway
Sign up to receive my emails or add me to your favorite reader
Add my new button to your blog or swap it out for the old button
Details: This giveaway is open to US residents only and will end June 9th at 11:59pm.  The winner will be randomly picked and announced shortly after and will have 48 hours to claim their prize or I will randomly pick another winner.
Disclosure: The manufacturer provided me with this product FREE of charge for the purpose of a fair review and they will also provide the winner with one.  I was not compensated in any other way to write this post.  My words are my own.