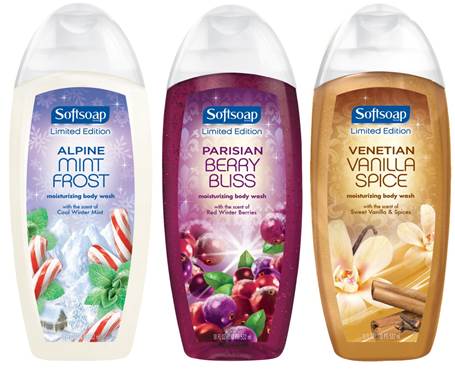 This post is Sponsored by Softsoap but my opinions are 100% my own!
Whether you want to admit it or not, the holidays are upon us.  The stores have been putting out Christmas stuff since the beginning of October.  Seriously!  I couldn't believe it.   But I refuse to even think about it until after Halloween is over.
Well, Halloween is over people so it's time to move onto the next holiday!
I'm okay with that.  I don't resist it because I really do love this time of the year.  Even with holiday after holiday and being rushed into it.  It's just a fun time of year with so many good things to do with friends and family and I look forward to it.
My favorite things to do in November and December are as follows:
Look at the beautiful colors of the changing trees – We live in New England so that means fall is absolutely beautiful!  The trees starting turning in October and by now they are all absolutely beautiful.  The leaves are half on the trees and half on the ground.  But I'd be lying if I said I don't like seeing them all over the place.  It just part of living in New England and I love it!
Plan and shop for Thanksgiving Dinner –  Thanksgiving is the only holiday that my entire family spends together.  I have one brother and he's married with 2 boys.  Him and his family including his inlaws (his wife is an only child) along with my parents, my husband and children and my inlaws (my husband is also an only child) gather either at my house or my sister in laws house for Thanksgiving dinner.  Because we are all together, it's my favorite holiday dinner!  So planning for it, and even hitting the stores is something I enjoy doing!
Putting up the Christmas Tree – I look forward to this every single year.  I've always taken pride in my tree and my girls seem to enjoy it as much as I do!  We all have our own personal ornaments that I store in a box with our names on them.  Each kid grabs their box and puts their own ornaments on the tree.  As we do it, we talk about each one.  They ask me to tell them stories of their ornaments each year and they love listening to them!
Christmas Caroling – My neighborhood rocks.  They really, really do!  Each year we go Christmas Caroling and every year we have more and more people join us.  It's so much fun and sometimes there is snow on the ground which makes it even better.  Then afterwards we gather at a neighbors house and enjoy some good food, wine and friends.
And of course there are some little things I look forward too as well.  That includes all the wonderful scents that the holidays bring along.  Not just the smell of food cooking, but also the scents of things like body washes!
I have been a huge fan of Softsoap for a long time.  If you read my blog regularly, then you already know this.  Whenever a new season and holiday comes around, you can expect that Softsoap will have some NEW Holiday Softsoap Body Washes scents.  So of course for the Fall of 2014, they have 3 NEW great ones that are only out for a limited time.
 NEW Limited Edition Holiday Softsoap Body Washes
Softsoap®Alpine Mint Frost
Lose yourself in the beauty of winter with Softsoap® brand limited edition Alpine Mint Frost body wash. Its revitalizing scent of Cool Winter Mint will leave your skin feeling soft and smooth all winter long.
Softsoap® Parisian Berry Bliss
Celebrate the spirit of the season with Softsoap® brand limited edition Parisian Berry Bliss body wash. This moisturizing formula leaves skin feeling soft and smooth, while the festive scent of red winter berries leaves you ready to enjoy winter.
Softsoap® Venetian Vanilla Spice
Embrace the magic of the winter season with Softsoap® brand limited edition Venetian Vanilla Spice body wash. Let the invigorating scent of Sweet Vanilla & Spices infuse your shower to leave you with soft and smoother skin all winter long.
Softsoap does a great job of making my bathroom smell amazing after we take showers.  The girls love all these scents and love using them too.  Softsoap not only smells great, but it always leaves my skin feeling clean and soft.  Now that the cold weather is hitting us in New England, I'm happy to have a body wash that helps my skin from completely drying out and smell good.
If I had to pick a favorite scent of the three I'd have to say the Vanilla Spice is my favorite.  But they all smell amazing!
You can find these three Limited Edition Softsoap scents in Walmart from October through December 2014 and they sell for about $3.50 for an 18 oz bottle.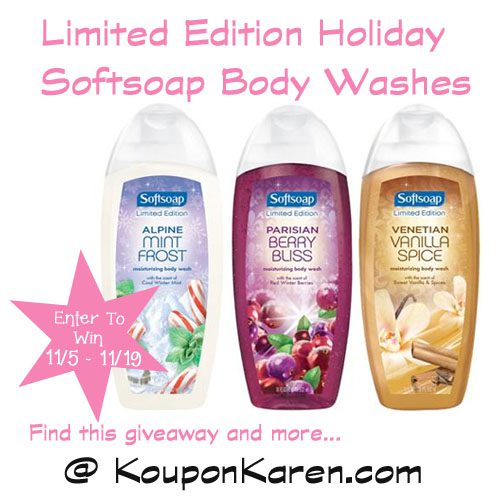 (1) Koupon Karen reader will win all 3 Limited Edition Holiday Scents!

To enter the giveaway, use the Giveaway Tools widget below. Email and feed subscribers will need to click-through to the site to enter the giveaway.
As a reminder, comments left on Facebook or Twitter will not be included. You must follow the instructions on the widget about the proper way to enter. Of course Facebook is in no way associated with this giveaway!
If you are looking for more giveaways, be sure to follow my Fun Giveaways Pinterest board!
Disclosure: I received a Free product for review. My opinions are 100% mine.