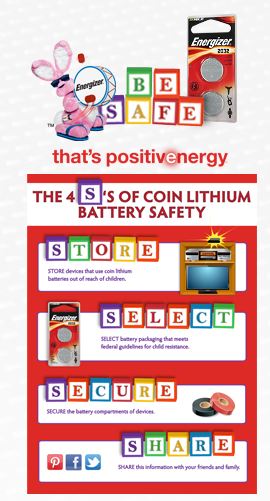 This post is Sponsored by Energizer but my opinions are 100% my own!
Being a parent is one of the hardest things I have ever done.   It's constant and you have to be on the top of your game when caring for a small child.  Things can happen at any point and fast.  I speak from experience!  Our girls have had their share of accidents (nothing ever serious) but each one came with a reminder that kids can do and will do things you may not even think they will attempt to do.
This week is National Childhood Injury Prevention Week (September 1-7, 2013) and the National Safety Council and Energizer have teamed up to share some important tips every parent should know to help prevent injuries from the ingestion of Coin Lithium batteries to help keep kids safe.
The 4 S's of Coin Lithium Battery Safety
Store devices that use coin lithium batteries out of reach of children
Secure the battery compartments of devices
Select battery packaging that meets federal guidelines for child resistance, such as Energizer's coin lithium battery packaging
Share this information with your friends and family
Energizer led the industry by being the first to voluntarily develop packaging for its 20 millimeter coin lithium batteries that meets the Consumer Product Safety Commission's (CPSC) strict guidelines for child-resistant packaging.  They also developed a national awareness campaign in partnership with Safe Kids Worldwide called The Battery Controlled, which works to alert parents and caregivers to the dangers of swallowing coin lithium batteries. Identifying ways its products can help keep families be safe is part of the Energizer commitment to designing its products with people in mind and investing in programs that have a positive impact on the world. that's positivenergy™
If it is suspected that a child has swallowed a coin lithium battery, it is important to go to the emergency department immediately. For more information on child safety and coin lithium battery safety, please visit nsc.org, www.energizer.com, TheBatteryControlled.comand www.poison.org/battery.
This really scares me and while I'm glad that my kids are bigger now and they know NOT to put anything in their mouth that isn't food, I'm so glad that Energizer has made their packaging safer for children to avoid this from happening as much as they can.  It's too scary.
Energizer sent me some Energizer coin lithium batteries along with a pack from another company.  They asked us to try out the packaging and compare the two to see how easy or difficult they were to open.  Honestly, we were amazed at how easy it was to open the competitors battery.  All we had to do was tear it and it was open,  we didn't even have to struggle.  Even though the instructions said to cut it open,  scissors we not needed.  Even for a small child, they could put the package in their mouth and wet the package, to make it tear open even easier.
Then we tried the Energizer package and we couldn't get it open at all.  We bent it over and over again, back and forth and nothing.  Then we tried to tear it and nothing, my husband even tried to use his teeth.  Nothing we did got that package open until we pulled out the scissors and cut it open.
You can see in the picture above how the one on the left opened so easily but the one on the right even after folding it several times, still is not open.  That is the Energizer one!
I applaud Energizer for thinking of our children and making it safe to have batteries in our home.  They are and always will be my battery of choice!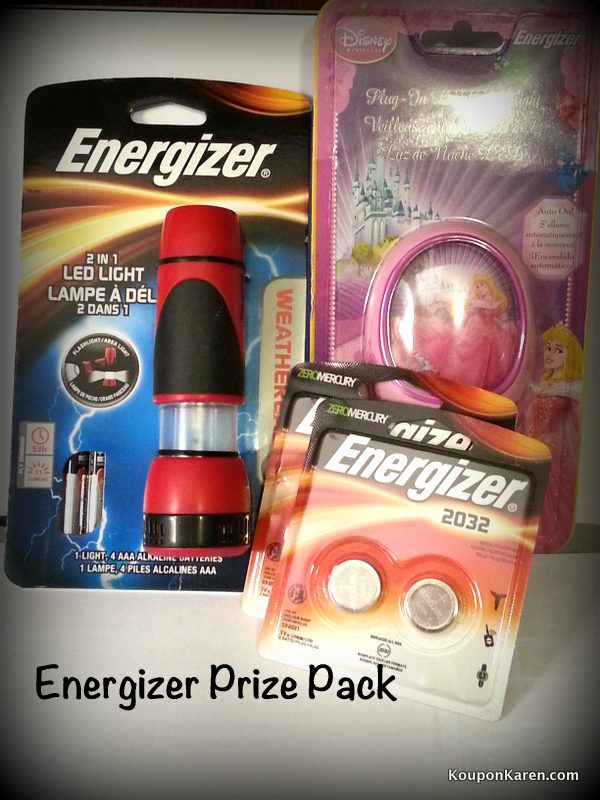 (1) Koupon Karen reader will win an Energizer prize package that contains the following items:

Two (2) packages of Energizer Coin Lithium batteries
One (1) Energizer LED Nightlight (choice between Sleeping Beauty or Cars)
One (1) Energizer Weatheready 2-in-1 LED Light
To enter the giveaway, use the Giveaway Tools widget below. Email and feed subscribers will need to click-through to the site to enter the giveaway.
As a reminder, comments left on Facebook or Twitter will not be included. You must follow the instructions on the widget about the proper way to enter.   Of course Facebook is in no way associated with this giveaway!
Disclosure: I received a Free product for review. My opinions are 100% mine.