Just Reminder!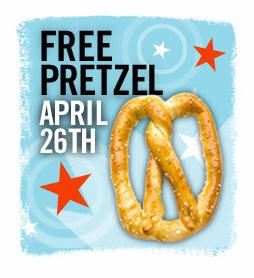 Tomorrow 4/26 is National Pretzel Day and for the 3rd year in a row, Pretzelmaker will be giving away FREE pretzels!!!
All you have to do is visit your local Pretzelmaker on National Pretzel Day, sing a snippet from a song of your choice and receive a FREE pretzel(with or without salt). Those who prefer not to sing won't go hungry – they can simply mention "National Pretzel Day" and receive their free snack.
They are also hosting a fun sweepstakes on their Web site where you can get an additional free pretzel and be entered for a chance to win a $50 iTunes gift card every week just for uploading a video of yourself singing!
*Limit one offer per guest during the day of the promotion. Counts vary by store. Valid only at participating U.S. stores. No purchase necessary.