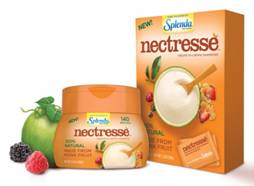 With the New Year in full swing, it's no surprise that health and weight loss goals top the resolution lists for people across the country. The latest diet fads come and go, but experts recommend finding simple and satisfying short cuts that are easy to incorporate into your daily routine and help make short-term fixes into long-term results.
Decreasing sugar intake is a simple solution for bettering your diet and a great way to stay on track.
NECTRESSE – the new natural no calorie sweetener from the makers of Splenda is made from the extract of monk fruit.   NECTRESSE brings the rich sweetness of sugar, without all the calories. NECTRESSE is an all-natural way to consume less sugar while still enjoying the foods you love.
Here are a few easy ways to help make a "sweet swap" and decrease your calorie intake.
Morning blend: Kick-start your mornings with a fresh fruit smoothie, without the added sugar. Sprinkle NECTRESSE™ Natural No Calorie Sweetener into your blender with assorted berries, low fat yogurt and ice. Blend and enjoy!
Mid-day snack: Top your favorite low-fat Greek yogurt with a handful of fresh-cut strawberries and a sprinkling of NECTRESSE™ Natural Natural No Calorie Sweetener.
Drink up: Mix 5 cups water, 1 cup fresh lemon juice and ¼ cup of NECTRESSE™ Natural No Calorie Sweetener in a pitcher; garnish with fresh mint sprigs and lemon slices, and serve over ice.
A sweeter entrée: Tomato sauce, barbeque sauce, glazes and salad dressings no longer have to be sugary and calorie-laden. Substitute NECTRESSE™ Natural No Calorie Sweetener into your hearty homemade recipes.
I've been using NECTRESSE in place of my normal sweetener for the past week and I really like it.  There is no after taste and it sweetens my coffee just enough so I really enjoy it!

(1) Koupon Karen reader will win one box and one canister of NECTRESSE ™ Natural No Calorie Sweetener!

To enter the giveaway, use the Giveaway Tools widget below. This is a new widget I'm trying and I hope you like it. Please let me know if you have any questions about it or problems with it! Of course Facebook is in no way associated with this giveaway!
As a reminder, comments left on Facebook or Twitter will not be included. You must follow the instructions on the widget about the proper way to enter.
Disclosure: I received a Free product for review. My opinions are 100% mine.