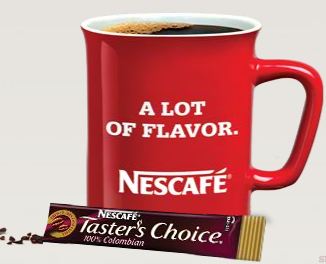 I need to start  my day off with a cup of coffee, but it has to be good coffee!  I was sent some Nescafe Taster's Choice stick packs to see if they were good enough for me to start off my day.   Nescafe Taster's Choice comes in six flavors – Gourmet Roast, Decaf, Original Roast, 100% Colombian, Vanilla and Hazelnut – five of which are now available in convenient stick packs for your on-the-go lifestyle.  The only one not available in stick packs is the Gourmet Roast.  It will continue to be offered in canister form only.
The first thing I liked about Nescafe Taster's Choice is they are affordable and won't but a dent in my budget and I always see coupons for them in the Sunday inserts.  That's always a plus for me.
My husband drinks tea all the time so we always have hot water on the stove.  I grabbed a stick pack and poured  myself some hot water.  The first one I tried was the Original Roast because I tend to drink only regular coffee in the morning.  It was good, not too strong, not too bold, just right for my morning cup.   The next one I tried (not in the same sitting, that would be way too much caffeine for me at once) was the Hazelnut.  It was pretty good.  A little weaker than other's that I've had but nice flavor.  So far so good.  Then I moved onto  Vanilla and it was like the Hazelnut not too strong, but good.
Overall I really enjoyed these stick packs but the best part was how easy it was to make.  Boil some water, drop the packet into my coffee cup, add cream and your ready to go.
When I travel I don't normally like the coffee they have in the room so I will toss some of these stick packs in my suitcase so I know I'll get a good cup of coffee in the morning.
For more information visit Nescafe Taster's Choice online.  And for fun see how much you'd save by switching to Nescafe Taster's Choice by using The Bottom Line calculator on their website.  It's amazing how much you can save!
Giveaway: The generous people at Nescafe have offered to give (3) Frugal RI Mama readers a chance to win some Nescafe Taster's Choice Stick packs.  Each winner will receive a prize pack that contains a Nescafe mug and six stick packs of the Nescafe Taster's Choice flavors!!!
How To Enter: Just fill out the entry form below and tell me you'd like to win.  That's it!
Extra Entry: Once you do the above mandatory entry you can do any or all of the following extra entries.  Just fill out a separate entry for each one telling me you did it or that you already do.
Post About this Giveaway and leave me the link.
Tweet about this giveaway and be sure to add @frugalrimama.
Sign up to receive my Emails or Add me to your favorite RSS reader.
Details: Open to US residents only. This giveaway will end January 20th at 11:59 PM EST and the winner will be announced the next day using random.org and will have 48 hours to claim their prize or I will pick another winner.
My Giveaway entry method is different now.  To avoid problems with too many comments on the posts, I will now be using an entry form for all giveaways.  To  leave an entry, just fill out the form below.  You must fill it out separately for each entry.  Once enter the first time, the entry box will disappear.  Click here to enter again each time after.  Comments are closed on this thread but if you have any questions or problems please email me at karen@frugalrimama.com.  Good Luck!
(This item was sent to in consideration of listing it in my Gift Guide. My words and my opinion are my own.)