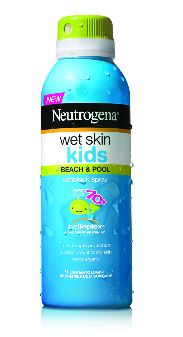 Warm weather means being outdoors, being outdoors more means putting on sun screen; It's not my favorite thing to do.  I remember when my girls were babies my husband would say "hey lets take them in the pool" and then he'd say "can you help them with their bathing suits and put sunscreen on them?" and then he'd say "are you going to join me"  and the answer was always NO!  Why you ask?  Because putting on the swim diaper, then the bathing suit then the sunscreen and then reapplying the sunscreen after a while when they were wet, was NEVER fun for me (yes I always did it all, he didn't).
Now that they are bigger it's not as much of a task to do since they can get themselves dressed and they also stay still for the sunscreen application process but then reapplying still isn't so fun because they are usually wet when they are outside, either from the big pool, the little pool, the sprinkler or just from sweat.  That's why when I heard about Neutrogena Wet Skin sunblock I was pretty excited to try it out!
I received a box of sunscreen for our review and I immediately tried it out, on dry skin.  I tested it out with the girls and it sprayed on very easy and then it immediately started absorbing into the skin.  It didn't drip down or cake up.  I rubbed it in to make sure it was even and it felt nice to the touch, not greasy or slimy.  To apply it to their faces, I just sprayed my hand and then rubbed it in.  Worked perfectly.
We were outside today since it's the holiday weekend and my husband turned the sprinkler on for them so I knew I'd be able to try it on wet skin.  I was actually excited to give it a try so I didn't wait too long.  The girls weren't too happy since we had just went through this process shortly before.  I was happy when I sprayed it on and it went on just as easily as when their skin was dry. It still didn't run down their legs or cake up. It was pretty cool.  And even though it mixed with the water, it still spread nicely when I rubbed in on again to make sure it was even.
This is definitely something that will be extremely useful to me this summer.
Available in SPF options of 30, 50, 85 and an SPF 70 for kids, the Neutrogena Wet Skin Sunblock sprays will have your entire family covered. Using Neutrogena's patented Helioplex Technology, in combination with unique waterproof technologies, the Wet Skin product cuts through water, forming a protective barrier on skin and provides superior sun protection from damaging UVA/UVB rays.
When you shop online you will receive $2.00 off all your sunscreen.  Check out what they have HERE.
"I wrote this review while participating in a blog tour campaign by Mom Central Consulting on behalf of Neutrogena and received sunscreen and other Neutrogena products as a thank you for my participation."