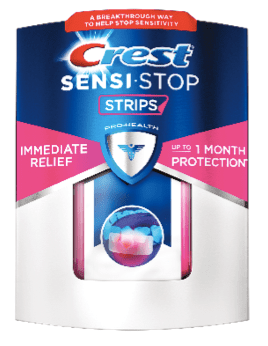 This is a sponsored post for SheSpeaks/Crest. My opinions are 100% my own!
A few weeks ago I told you about the NEW Crest Sensi-Stop strips to help those with sensitive teeth.  I have sensitive teeth so I was eager to try these out.
Crest® Sensi-Stop™ Strips are thin, flexible strips that contain an active ingredient used by dental professionals. Unlike toothpaste, Crest® Sensi-Stop™ Strips are applied directly to sensitive areas, providing targeted delivery of the key ingredient that allows for longer contact time on the surface of the tooth. Within minutes, strips build a lasting barrier that helps stop sensitivity pain by blocking tubules, relieving symptoms of dental sensitivity for up to 30 days*.
How to Use Crest Sensi-Stop Strips
Up to one month of protection in 3 easy steps:
Identify exactly where you feel the "zing"
Place 50% of the strip over the gum and 50% over the tooth
In 10 minutes remove the strip. Relief lasts up to 1 month
My results
I'm happy to report that after using the strips and 4 weeks later I am very happy with the results and I have less sensitivity.   To really make sure they worked, I stopped using my sensitive toothpaste and I've had no problem with drinking ice cold water!  SO I will continue to use these strips every 4 weeks to keep my teeth from hurting!
Disclosure: I received a Free product for review. My opinions are 100% mine.