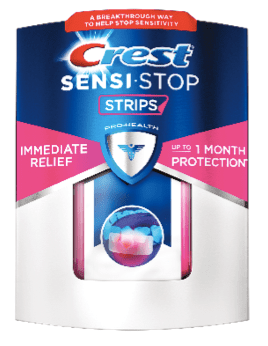 This is a sponsored post for SheSpeaks/Crest. My opinions are 100% my own!
Do you have sensitive teeth?  I never did until earlier this year.  I had some dental work done and needed to get a bridge.  Once we started working on that, I ran into problems with sensitivity.  Most people would just start using sensitive toothpaste and call it a day.  But I refused to use them as I had tried in the past and just hadn't found one that I liked using.  I'm a bit of a snob with my toothpaste.
I'm also a snob with my water and need it to be ice, ice cold when I drink it.  Load the ice cubes in please!  But when you have sensitive teeth, really cold drinks hurt.  And they hurt my teeth to a point of almost screaming!
Seriously I need to do something about this.  Enter Crest Sensi-Stop Strip – you just put it on your gum line for 10 minutes and get relief for up to a month.  Are you serious?  Sign me up!
I received a package of Crest Sensi-Stop strips and immediately put them to use.  They are super simple to use.  Just open the package, pull off the little strip and apply it to your gum line where you experience the pain.   After 10 minutes you remove the strip and you should get immediately relief.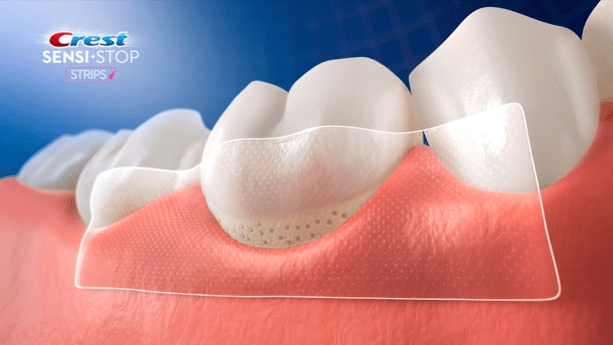 Did I get immediate relief?  I sure did!  They say it can last up to a month and it's been about 2 weeks at this point and I haven't experienced any pain from the area.  Thankfully it's only one area right where I had my bridge done and it's really nice to drink a cold glass of water and not experience the pain.
Why Use Crest Sensi-Stop Strips
Do you struggle with tooth sensitivity problems? Have your teeth ever ached after eating something too hot or too cold? Crest Sensi-Stop Strips use a new breakthrough technology to provide shoppers with tooth sensitivity relief in the form of a strip, not a paste. The strips are easy to place, and there's no measuring or guesswork required. Using one Crest Sensi-Stop Strip for just ten minutes can lead to up to one whole month of protection.
How to Use Crest Sensi-Stop Strips
Up to one month of protection in 3 easy steps:
Identify exactly where you feel the "zing"
Place 50% of the strip over the gum and 50% over the tooth
In 10 minutes remove the strip. Relief lasts up to 1 month
Try Crest Sensi-Stop Strips
If you have sensitive teeth, I highly suggest you try these.  You can pick up the new Crest Sensi-Stop Strips Walmart right now.  Run, don't walk… and get some!  Your teeth will be so happy you did.
Disclosure: I received a Free product for review. My opinions are 100% mine.