This shop has been compensated by Collective Bias, Inc. and its advertiser. All opinions are mine alone. You must be 21+ years old to try Poise Impressa Bladder Supports. #LifeAfterLeaks #CollectiveBias
Over the summer, I took my 8-year-old to a local trampoline park.  She had been before with friends but it was my first time going.  I was pretty excited because to be honest, I've never EVER jumped on a trampoline before and I've always wanted to.  It's like the little kid in me came out and I just could not wait to get there!
Once we arrived I got a little nervous.  While it looked easy, it also looked a little scary.  I asked me 8-year-old to show me what to do (silly I know because really you just jump).  But the big open space with all the little trampolines was scary to this 42-year-old mom who isn't in the best shape.  But I went for it and I just Jumped!
And I jumped and I jumped.
It was scary, I felt a little out of control when I was up in the air and I wasn't sure how to stop.  My 8-year-old laughed at me.  I guess deep down inside I wasn't surprised at any of those feelings but what I wasn't expecting to happen, was something very personal and very uncomfortable.   As I bounced up and down, so did my bladder and you can probably guess what happened then?  Yup, I leaked urine.
It was awful but not all that uncommon. SUI leakage (Stress Urinary Incontinence) happens to so many women and I think more people really need to talk about it.
I will admit, I was a bit embarrassed, of course no one could tell but me.  I really wanted to jump more because my daughter loved seeing me out there and frankly, I thought it was a lot of fun. Not to mention GREAT Exercise!  My Fitbit was so excited with all my movement.
I've had some urine leakage before, but never to this extent.  I told my friends who were there and they all told me the same thing happens to them.  I felt somewhat better, even though it didn't help me at the time, but it was nice to know that I wasn't alone.
New Poise Impressa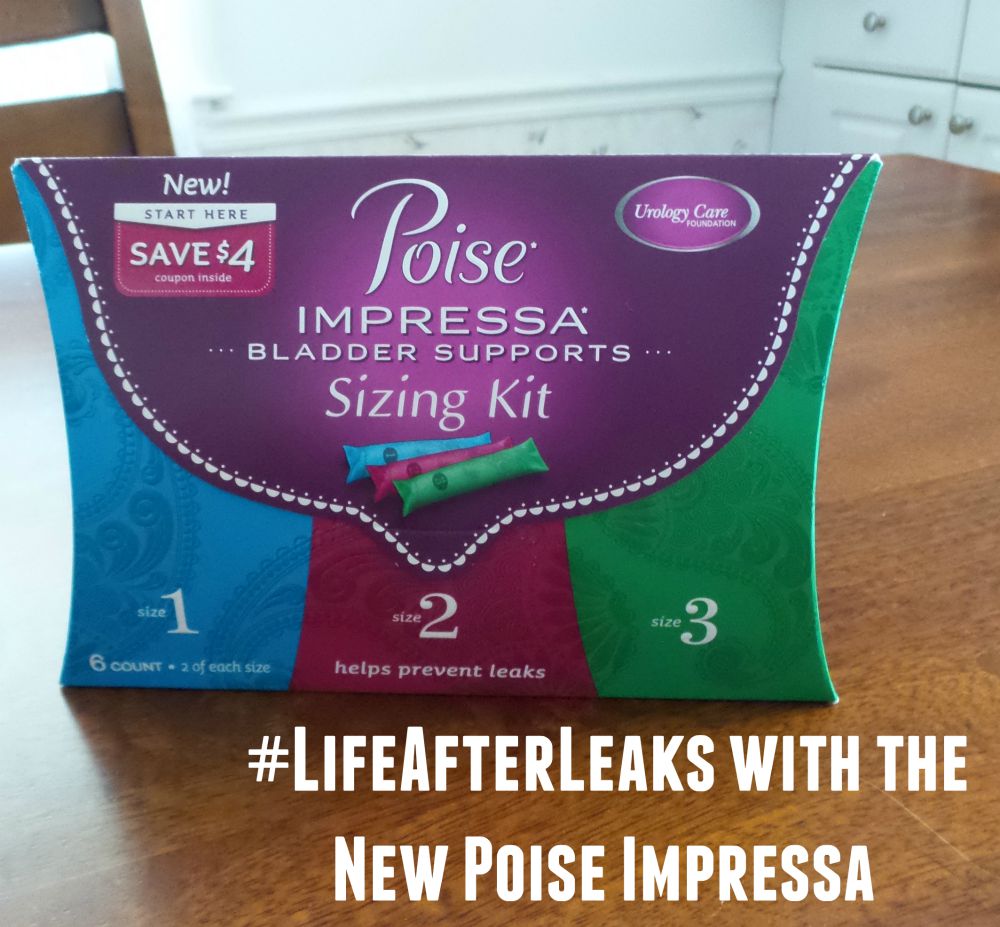 Why am I telling you all this?  Because recently I was in CVS and I came across Poise Impressa.  Poise Impressa is a bladder support that helps prevent you from leaking by gently supporting the urethra so urine can't leak out.  I was pretty impressed with the concept so I grabbed the Poise Impressa Starter kit to try it out.  I loved being on the trampoline so much that I wanted to take their exercise classes, but there was no way I was going to be able to do it without leaking urine so I figured why not try this.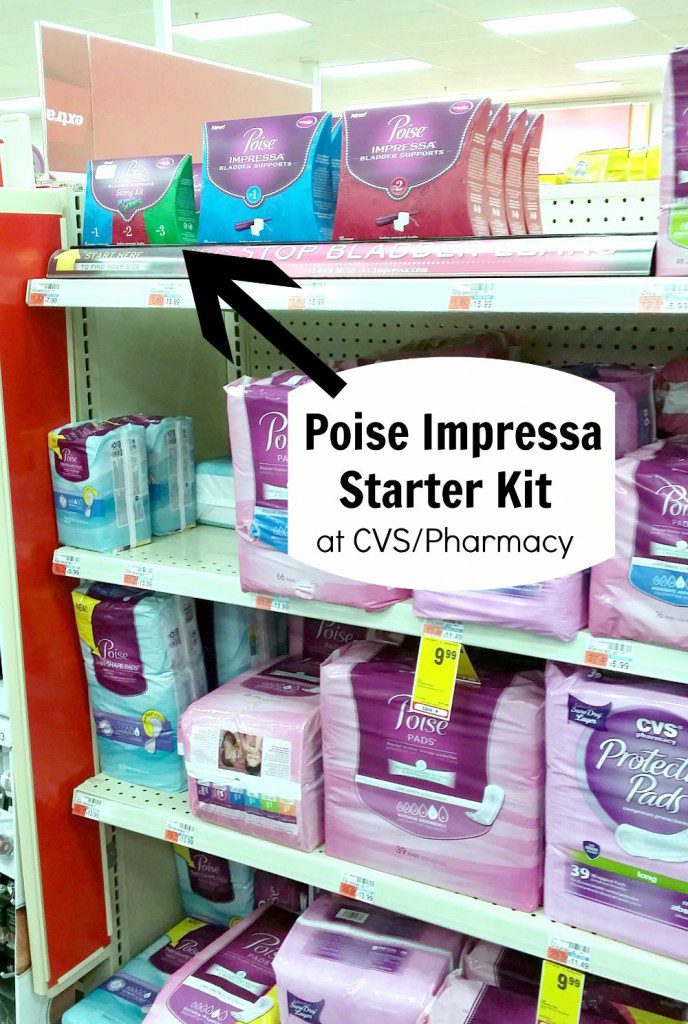 The Poise Impressa looks like a tampon and is inserted like a tampon, but it does not absorb anything.  The sizing kit comes with 3 different sizes so you can see what works best for you.  Everyone is shaped differently and to get the best results, you need it to fit perfectly.   You start with size 1 and after using it if you still leak, you try size 2 and so forth.  The sizes don't have anything to do with how tall you are or how much you weigh, it's about your internal fit.  Once you don't leak, you have the size that works and then you can purchase them in a 10 pack.
Seriously, using the sizing kit was so simple and now I'm all set for exercising without urine leakage.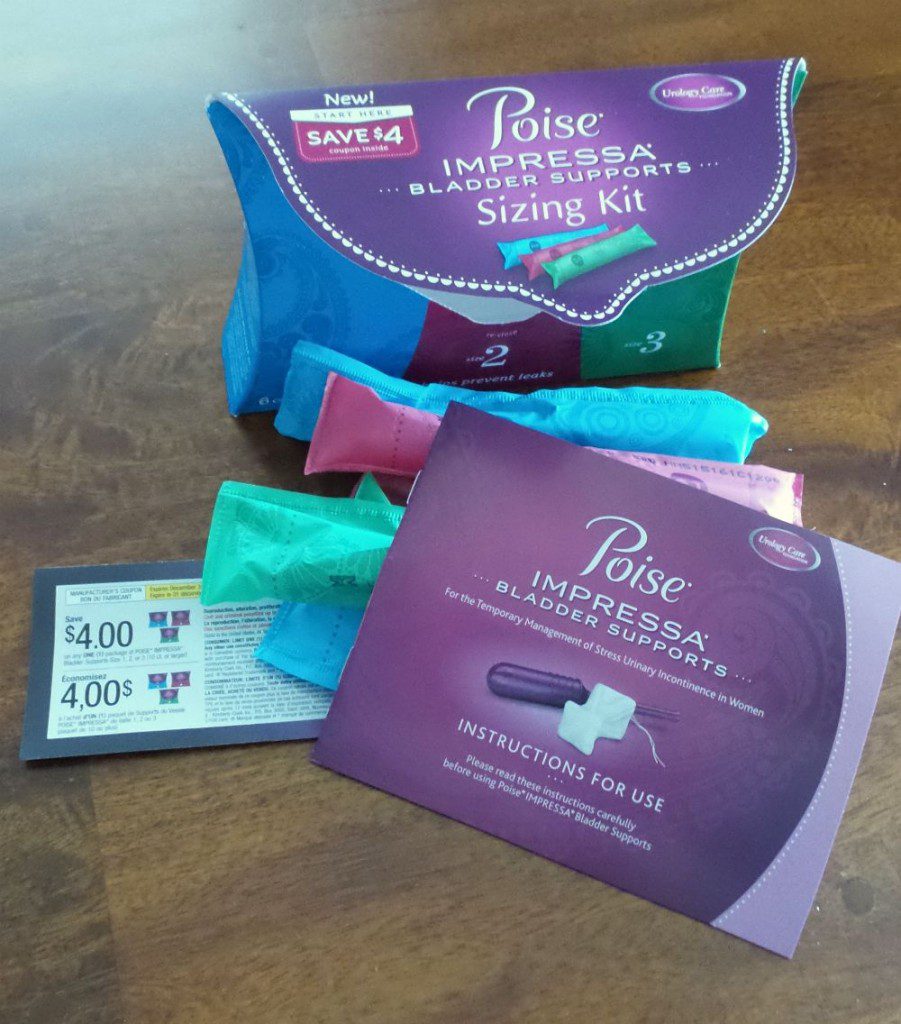 If you want to try the Impressa Sizing kit you can print this $1.00 off coupon while supplies last and give it a whirl.  You have nothing to lose and you'll feel so much more confident.  The Impressa can be used for up to 8 hours every single day and you can keep it in while you go to the bathroom!  It didn't take much time to get used to and it worked really well.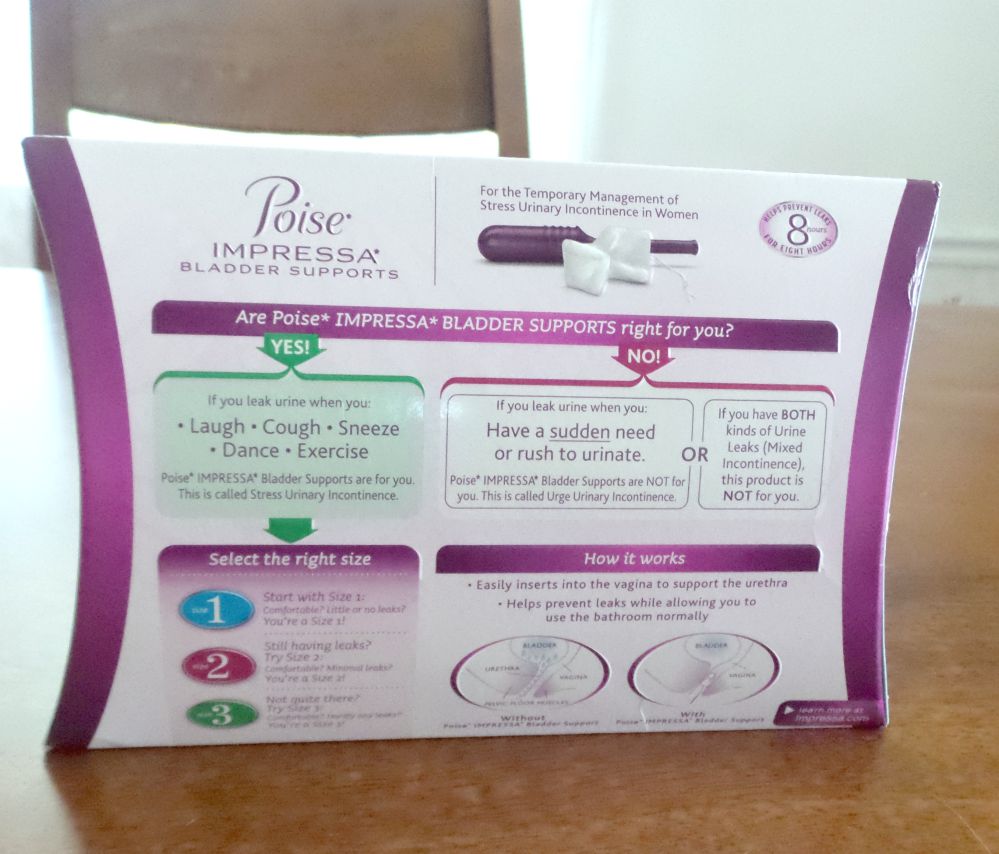 It's a pretty cool concept and I so happy I tried it!
For more information:
Visit the Poise Website to see a video on Poise Impress and also Read Real Testimonials.
Poise Social Channels:
Do you suffer from Urine leakage when you sneeze, cough or exercise?  Will  you try the Poise Impressa?  I'd love to hear your thoughts!