This post is Sponsored by Friend Chips but my opinions are 100% my own!
My girls love to follow the trends.  Not so much fashion trends but toy/gadget/collectable trends.  We still find little elastics all over the house! And they also love playing with their friends.  They trade toys all the time for a day or two with our neighbors, which also happen to be their best friends!  So I was happy when I received this new collectable – tradeable – fun item for my girls.  Because I knew they would love them, and I was right!
Introducing Friend Chips! Collect 'Em, Trade 'Em & Share the LOVE! And right now they are only $2.99 and when you buy one you get one FREE + with Free Shipping & Handling for a limited time.  So that's only $1.50 a bag!!!!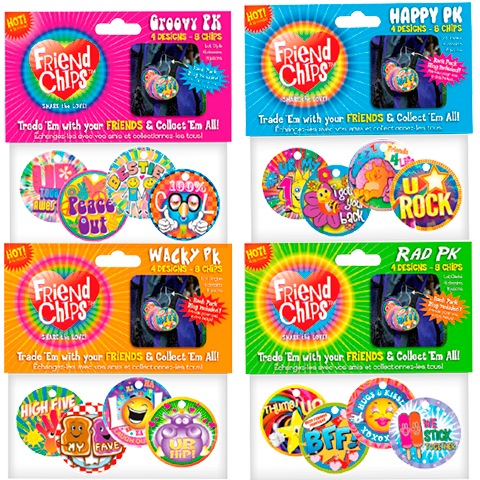 What are Friend Chips? These fun tradeable chips come in four different design packages: Wacky Pack, Happy Pack, Groovy Pack and Rad Pack. Each pack is only $2.99 and shipping is FREE! You can order them direct from the Friend Chips website and they take paypal!
These chips come with a backpack ring so they can take them to school and trade with their friends, during free time of course!   Each package comes with 8 chips in 4 designs.  I love the fun and positive messages that are on these chips.    And my girls could relate to so many of them.   And my 7 year old was super excited about the PB&J one because she eats it everyday.  She said that was made for her.  😉
These are new and I have a feeling they are going to be HOT!  They come in 4 varieties:
So the girls can trade to get chips from all varieties and then trade them again when they change their minds!  And the price is just right a $2.99 a pack!!!
Keep up with the latest Friend Chips news and excitement!
Disclosure: I received a Free product for review. My opinions are 100% mine.