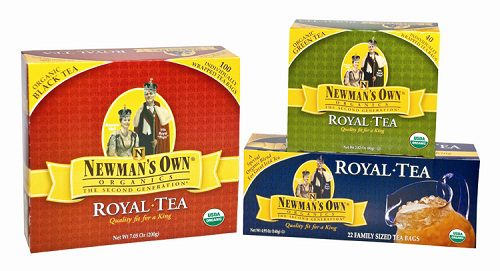 If you are  a Tea lover and you prefer organic tea, check out the line of organic teas from Newman's Own Organics.   Nell and "Pa" Newman turned in their American Gothic garb for regal robes and scepter for their distinctive packages for Newman's Own Organics' Royal Tea line.  Pretty cute,  don't you think?!
New Newman wanted to add a tea to their product line but waited until they found the perfect company to give them the high quality of organic tea she was looking for!  Nothing but the best for her customers.  Harris Tea Company, with over 200 years of tea procuring and blending experience was the winner!  Because they know the tea plantations the tea is sourced from, Nell is sure that they are offering quality organic tea to her customers and at reasonable costs too!
Of course the boxes carry the USDA Organic Seal and are available in supermarkets across the country:
Organic Black Tea – 100 count of 2g double chamber tea bags in individual paper envelopes with a suggested retail price of $3.99.
Organic Green Tea – 40 count of 2g double chamber tea bags in individual paper envelopes with a suggested retail price of $2.99.
Organic Family Size Black Tea Bags – 22 count of 6.3g double chamber tea bags – perfect for preparing iced tea with a suggested retail price of $2.99.
I found this quite interesting – "According to the Tea Association of the USA, Americans consumed well over 50 billion servings of tea in 2006; which is over 2.25 billion gallons."  That is a lot of tea!!!  While some drink tea for simple enjoyment, others know that black and green tea contain flavonoids – naturally occurring compounds believed to have antioxidant properties. There is a growing body of international scientific research about tea's healthful properties and its potential roles in many areas of well-being. For many, however, it just tastes good and is a versatile pick-me-up. From starting the morning with a brisk cup of black tea to iced tea with meals and a cup to relax with later in the day, tea is a perfect day-long beverage throughout the seasons.
I know lots of people who drink tea because of the antioxidants and lots that drink it for pleasure as well.  My husband has tea everyday and a few cups at that.  While he doesn't enjoy green teas, he does enjoy pretty much everything else.  He tried some of the Organic Black Tea and really enjoyed it.  He loved flavor and said he'd drink it more often if we had it in the house.   While I'm a big coffee drinker, I like tea occasionally especially when I'm sick.  This tea arrived just in time because I've been battling a cold and sore throat on and off for a while now.   The Black tea was very good and very soothing!  I drink my tea straight up with no sugar or milk so I was able to fully taste the black tea.
My mother is big into Green tea so I shared some with her and another friend who also drinks Green Tea.  They both enjoyed it very much but my friend, who enjoyed it very much,  said she had to use two tea bags at once or it was too weak for her.  My mother was fine with one, she seeps it and lets it get cold then adds ice.  I'm guessing that she enjoys it weak already if she adds ice to it.
I use tea bags even though I have a Keurig and I either brew the water with the k-cup holder empty and put the tea bag in my cup or I put the tea bag in the k-cup holder and brew it like it was a k-cup.  Either way works for me since I always remove the tea bag from my cup when I drink tea.  So we will enjoy this tea even though it's not in k-cup form.
Have you tried any of the Newman's Own Organic Royal Teas?  If so I'd love to hear what you think of them!

(1) Koupon Karen reader will win some Newman's Own Organic Royal Tea!

To enter the giveaway, use the rafflecopter widget below. You can now sign in with Facebook and it will remember you each time you enter another rafflecopter giveaway. Of course Facebook is in no way associated with this giveaway, the people of rafflecopter just want to make it easier for you to enter giveaways now.
As a reminder, comments left on this blog post, Facebook or Twitter will not be included.  You must comment within the Rafflecopter Widget below.
Disclosure: I received a Free product for review. My opinions are 100% mine.