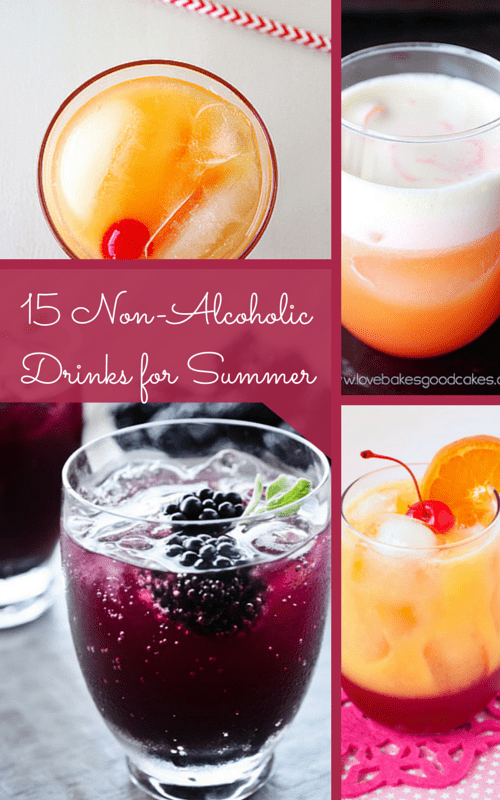 Summer is perfect for amazing get togethers but sometimes they can be a handful for the one throwing the party.  If you would like to reduce your list of responsibilities or stress at your next shin dig, try one of these 15 non-alcoholic drinks that are pleasing to the eye and taste buds without taking away the fun!
15 Non-Alcoholic Drinks for Summer
Brazilian Lemonade | My Mom Taught me to Play with my Food – Lemonade is always a refreshing drink and could be said to be the poster drink for summer.  Try this new twist on lemonade for your next drink!
Arizona Sunset | Love Bakes Good Cakes – Who doesn't like those brightly colored, duo colored drinks?  Try this tangy mixture the next time you relax.
Miami Vice | Lovelyish – Having just a few friends over?  Whip up these delectable and colorful drinks for a treat!
Coconut Lavender Lemonade | Confectionalism – Here's another lemonade recipe that will help with your allergies! A beautiful color with health benefits!
Lava Flow | Coterie – Here's a classic drink that even kids can enjoy!
Pink Delight | The Real Thing with the Coake Family – Having a bachelorette party you want to keep under hand?  This is an adorable drink that looks like champagne without the last effects.
Cactus Cooler | Love Bakes Good Cakes – Mix up one of these light and frothy drinks the next time you're relaxing by the pool or throwing a get together.  It's color is nothing extravagant but it's a nice simple crowd pleaser.
Blackberry Sage Cooler | Scaling Back – Do you love fresh blackberries?  I know I sure do.  It's all I can do to not binge eat them when we go out and pick them off the bushes.  This drink is a perfect mix of blackberry goodness.
Bottoms-Up Cherry Limeade | Taste of Home – Cherry soda is one of my favorites but this homemade version is even better.  Such a fresh option to keep cool during summer.
Grandma's Frappe | Six Sisters' Stuff – This drink is not just for grandma but for the whole family! Even the kids will feel like adults when getting to partake in this with the grown ups.
Hot Pink Barbie Drink | Raining Hot Coupons – This recipe provides the non-alcoholic and alcoholic version of this drink but we're just excited it has more than one option! This drink is super neat and perfect for any girly party or girl's night out.
Shirley Temple | This Lil Piglet – This classic drink is easy and still tastes great even without the alcohol.  Perfect for a little girl's tea party even!
Hugs on the Beach | Heather Likes Food – I'm not so sure if this drink reminds me of hugs on the beach but it sure does remind me of summer! Try this citrusy mixture at your next party!
Pink Panther Mocktail | Nosh my Way – Cocktails can be addicting in any form and are usually referred to as a "girly drink" but this non-alcoholic version has no limit to the fun! Never worry about how much you drank with this one!
Non-Alcoholic Sangria | The Kitchn – My aunt and I made this just recently for a wedding shower and it was gone before the party even got started. This recipe is a great starter but feel free to try your own fruit mixtures!
Never fear not serving alcohol at your next party again with these yummy non-alcoholic recipes!