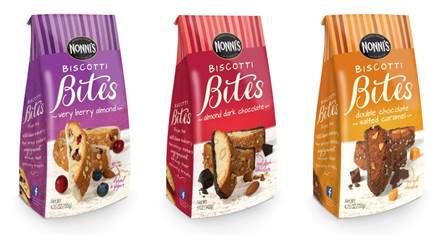 This post is Sponsored by Nonni's Biscotti but my opinions are 100% my own!
I love to snack.   Sometimes I snack too much and I pay for it.   But I love when really yummy snacks come in small sizes so I can indulge and not feel bad about it.
Nonni's, creator of the number one selling biscotti, recently introduced two new scrumptious treats – Double Chocolate Salted Caramel and Very Berry Almond Biscotti Bites.
The new bite-sized creations maintain Nonni's devotion to use only the highest-quality ingredients, including real almond pieces, dark chocolate drizzles, luscious caramel bits, sweet cranberries and creamy Greek yogurt. Nonni's Biscotti Bites are less than 40 calories per cookie, making them a smart and sweet snacking solution.
I can handle 40 calories per cookie.  Just one or two is enough to satisfy my sweet craving with a cup of coffee.  And I love Nonni's Biscotti because not only are they good, but they are super crunchy which is what I love in a cookie.
Fresh from Nonni's artisan bakery, Biscotti Bites are now available in three decadent flavors including:
Nonni's Almond Dark Chocolate Biscotti Bites – A delicious treat full of real almond pieces and dipped into semi-sweet dark chocolate.
Nonni's Double Chocolate Salted Caramel Biscotti Bites – A joyous indulgence loaded with caramel bits, dipped and drizzled in rich milk chocolate then finished with a sprinkle of sea salt.
Nonni's Very Berry Almond Biscotti Bites – A decadent bite brimming with fresh nuts, sweet berries and dipped in creamy Greek yogurt.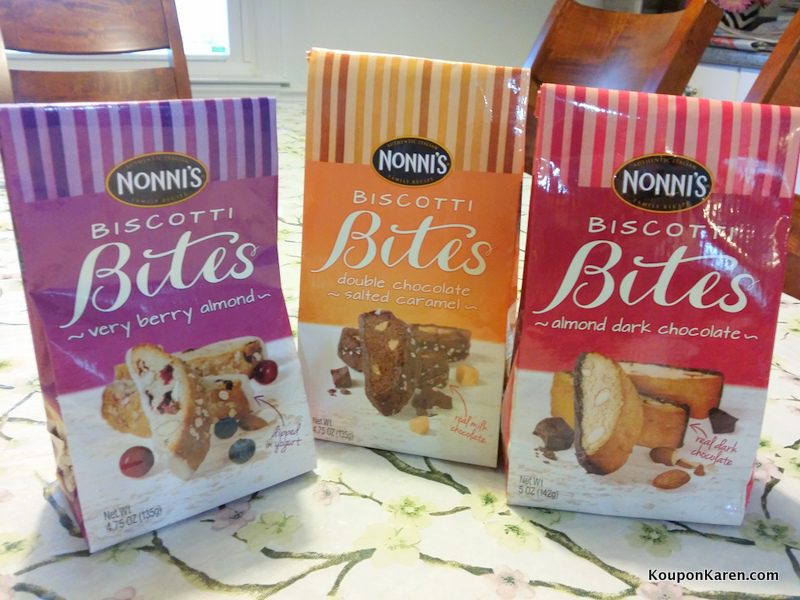 I've tried all 3 varieties and I have to tell you they are all good .   But if you made me pick one, I'd say the double chocolate salted caramel.  OMG they are amazingly delicious.  I'm obsessed with anything salted caramel lately so these were right up my alley!  My family all enjoyed them and the two chocolate were the biggest hit in my house.
Try them and let me know.  They are all in stores now.
Find and follow Nonni's Biscotti on Facebook, Twitter, Pinterest, Instagram!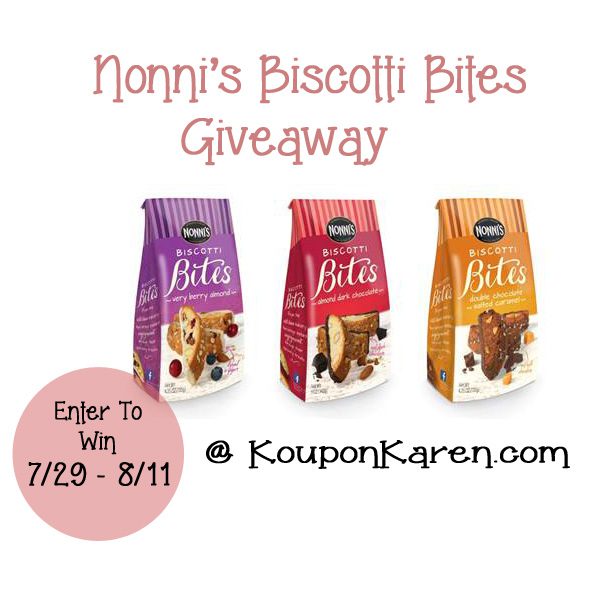 (2) Koupon Karen reader's will each win 5 coupons for FREE Nonni's Biscotti items.

To enter the giveaway, use the Giveaway Tools widget below. Email and feed subscribers will need to click-through to the site to enter the giveaway.
As a reminder, comments left on Facebook or Twitter will not be included. You must follow the instructions on the widget about the proper way to enter. Of course Facebook is in no way associated with this giveaway!
If you are looking for more giveaways, be sure to follow my Fun Giveaways Pinterest board!
Disclosure: I received a Free product for review. My opinions are 100% mine.