I'm so excited to share with you that I am a Nutrisystem Nation Blogger and I'll be following the Nutrisystem program and sharing my weekly progress right here on the blog.
I just completed my 6th week on Nutrisystem and I lost an additional 1.9 lbs for a total of 17.5 lbs so far.
This week I tried really hard to drink all my water and not stray off the program much.  We celebrated my birthday last Monday by having dinner out.  I choose a yummy turkey burger and while they didn't have an option for a wheat bun, I cut the burger in half and hate half of it on the bun and the other half I cut up.  I ordered a side of steamed broccoli to complete my meal.  It was delicious.   Since it was my birthday dinner, the girls really wanted to have a dessert and sing happy birthday to me so we ordered one dessert with 4 forks.  I had a few bites but that was it.  It wasn't too hard to resist because I was pretty full from my meal and I'm very determined.
This week I want to talk about one of the challenges I'm facing on Nutrisystem and that is eating out.  While we do eat out less, there are some occasions where we can't avoid it and other times when I just don't feel like cooking anything.   But that challenge part isn't probably what you think it is.   I am not making bad choices while eating out, I don't think I eat enough when we eat out.   I find I'm more successful in weight lose the more I eat – of course the food I can eat.
When we go out I always order a salad with fat-free dressing or oil and vinegar on the side and take out any croutons or bread that may come with it.  My kids love that because then they get to eat them.   If I have the option of getting some grilled chicken on the salad then I will.  But If I'm out for lunch I should be eating what is equal to a Nutrisystem Meal (approx 1 serving of smart carbs and 1 serving of protein) and then 2 more servings of proteins along with as many veggies as I'd like.  (I should have 4 a day but most days have more than 4).  So if I get a salad with chicken that's probably equal to 2 servings of protein and if there is cheese in the salad then that is 3 servings of protein but I don't get any carbs into that meal.   Finding a smart carb to have at a restaurant with a salad is tough.    And they don't always have fat-free or low-fat cheese for the salad so I either opt out having it or have too little.  See what I mean how it's hard to really eat what I should while out?
So that part is a learning process and hopefully eventually I get it down right, but the weeks I eat all my meals at home I do find I have better results.
On Saturday my husband had a birthday party for me with a few friends and family.  I mentioned this last week and how my plan was to have one glass of wine and one small piece of cake.  You only turn 40 once right?  And I've been really good the past 6 weeks and haven't had any wine or sweets not on the program.  Of course the cake was in place of my NutriSystem dessert.  So I had my wine and piece of cake and it was good!  And I still lost weight because I followed the program accordingly all week-long.  Cheers……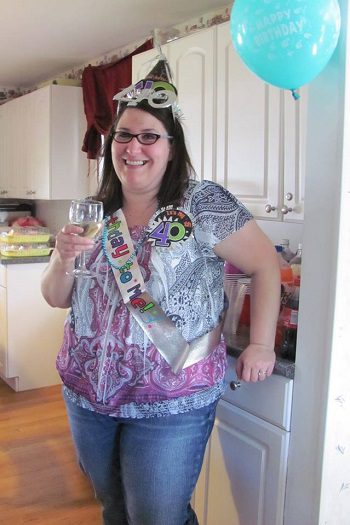 (I secretly can't wait to share my picture in a year at my 41st birthday and hopefully you won't recognize me!) I still have a long road ahead of me, and anyone who wants to join me can check in each Monday as I post my results.
Week 1 – 8.8 lbs
Week 2 – 2.5 lbs
Week 3 – 1 lb
Week 4 – 2.7 lbs
Week 5 – .6 lbs
Week 6 – 1.9 lbs
Total Weight Loss – 17.5 lbs
Are you working on any weight-loss or health goals?  If so share them in the comments so we can all cheer you on!!
Disclaimer: Nutrisystem is providing me with 4 months of the Women's SUCCESS Select Program.   All opinions are 100% mine are not altered in any way.  Want to lose weight and get healthy on Nutrisystem? Join today by calling 1-888-853-4689 or by visiting https://www.nutrisystem.com/nsblog.