I'm so excited to share with you that I am a Nutrisystem Nation Blogger and I'll be following the Nutrisystem program and sharing my weekly progress right here on the blog.
I just completed my 8th week on Nutrisystem and I lost an additional 1.2 lbs for a total of 21.3 lbs so far.
Today is the last day of school for my girls and last week we had a crazy week with school activities and I was back and forth every single day.  The girls had 3 field trips between the two of them, the school had a field day one day, the 2nd grade class had a game day so I brought them Popsicle's, my little one had her gymnastics' gym show, my older one had her dance recital rehearsal and through all of this I squeezed in work and tried my best to follow the plan.  I am so glad last week is over and school is pretty much done.
And also happy to see that all my juggling worked and I still lost over a pound!  It can be difficult when I'm busy but I've learned if I just plan ahead and take food with me that I can still follow the plan.   Before I started Nutrisystem this past week would have been filled with eating out, fast food,  coffee and donut stops and bags of chips.  Seriously that is what I do when I'm busy and don't have time.  I also would have gained 5 lbs and felt horrible all week-long.  While I was exhausted from all the busyness of the week, I didn't feel like crap from eating poorly since I still ate well.
One of the field trips I went to with my youngest was to the local zoo.  We had to pack a lunch but we were also going to be out in the heat and I was carrying a back pack so I couldn't bring a cooler.    But again, I planned ahead and did really well.  I packed my lunch the night before and put everything in the fridge.  I also put my water bottles in the freezer.    For lunch I brought the Nutrisystem Tuna,  which is seal packed so it doesn't need to be cold, a wheat sandwich thin, a bag of cherry tomatoes (1 cup = 1 serving), low-fat string cheese, 2 oz of Turkey Pepperoni.    I put one frozen water bottle in a bag with the cheese stick so it would stay cold.  It was the perfect lunch for on the go so I'm going to make sure I have some of the tuna on hand a lot this summer for days like this.  And seriously it was super easy to pack, and healthy too!
Here is my little one with her favorite animal in the whole entire world…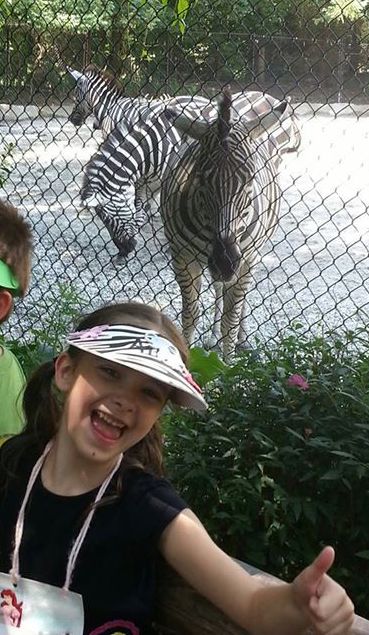 All of this is so worth it because I'm feeling so much better about myself all ready, even though I have so far to go!  I took my measurements this weekend and I'm so happy to share with you that I've lost 12.5 inches and I'm down just about 2 pants sizes!    I've lost the most inches around my hips (4.5 inches!!) so that is why my pant size has gone down so much.  I'm so happy and I'm excited to keep going.
In the past when I get to about 30lbs lost I slow down and eventually stop.    I think this happens because I get tired of planning out my food, because I get to a size I'm more comfortable with (but I'm still very overweight), and I start to miss the foods I've been not eating, and I get lazy.   So my goal is to get past that 30lb mark because I think if I can get that far then I may be able to go even further which is really what I need to do.   I also think if I get past it then by then my new eating habits will be more routine and not so much a "temp change".   So hopefully you'll continue to cheer me on as I keep moving forward on this journey!
And I bought a new shiny yellow bike this weekend and the girls are so excited to go on bike riding with me.  We went for a ride last night and it felt so good to be on a bike.  It's been a long time!!  I just need to get a basket for the bike, I think it really needs one!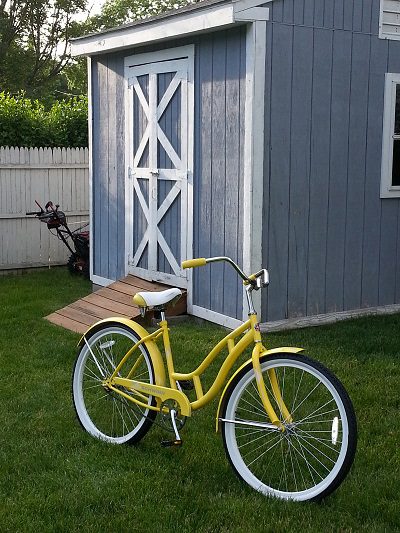 I still have a long way to go and I'm going to keep on going!
Week 1 – 8.8 lbs
Week 2 – 2.5 lbs
Week 3 – 1 lb
Week 4 – 2.7 lbs
Week 5 – .6 lbs
Week 6 – 1.9 lbs
Week 7 – 2.6 lbs
Week 8 – 1.2 lbs
Total Weight Loss – 21.3 lbs
Are you working on any weight-loss or health goals?  If so share them in the comments so we can all cheer you on!!
Disclaimer: Nutrisystem is providing me with 4 months of the Women's SUCCESS Select Program.   All opinions are 100% mine are not altered in any way.  Want to lose weight and get healthy on Nutrisystem? Join today by calling 1-888-853-4689 or by visiting https://www.nutrisystem.com/nsblog.