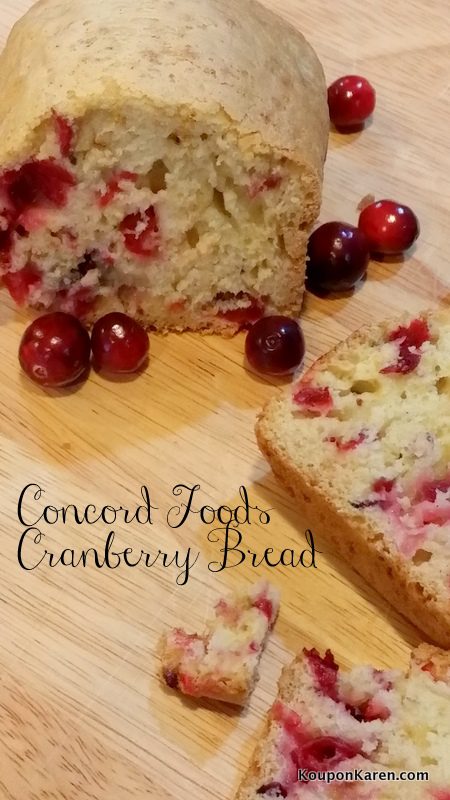 This post is Sponsored by Ocean Spray but my opinions are 100% my own!
Thanksgiving is almost here and Cranberries are a big part of the day, don't you think?  I love real, fresh cranberries.  They have a beatiful color and look great even on display.  Lots of people use real cranberries to decorate their table for the holiday.   But my favorite way is to use them in a recipe.  I love adding fresh items to recipes and the Concord Foods Cranberry Bread Mix is the perfect mix to add fresh Cranberries to.  It has a hint of orange flavor and has amazing flavor with the fresh berries.
I received a box of Concord Foods Cranberry Bread Mix and some Ocean Spray Cranberries to bake for my family.  It was super simple to make because it only requires 3 ingredients – water, egg and cranberries.  You don't even need to pull out your mixer because this is mixed by hand and then in the oven it goes.  You could make this in the morning and have it for breakfast.
My family loved it! There is a hint of orange flavor in the mix and it is perfect with the tartness from the cranberries!  I used a mini loaf pan and made 3 mini loaves.  One we ate right away and the other two are in the freezer to have for breakfast on Thanksgiving morning!  It'll be the perfect way to start the day.
Be sure to stock up on Concord Foods' Cranberry Bread Mix before December 31st as it is only available during the cranberry harvest season!  Concord Foods' Cranberry Bread Mix tastes best with fresh Ocean Spray® fresh cranberries; however, you can also use Craisins® Dried Cranberries. Simply pre-soak for 20 minutes.

(1) Koupon Karen reader will win a bag of Craisins, a box of Concord Foods Cranberry Bread Mix, and a Calphalon loaf pan!

To enter the giveaway, use the Giveaway Tools widget below. Email and feed subscribers will need to click-through to the site to enter the giveaway.
As a reminder, comments left on Facebook or Twitter will not be included. You must follow the instructions on the widget about the proper way to enter. Of course Facebook is in no way associated with this giveaway!
Disclosure: I received a Free product for review. My opinions are 100% mine.