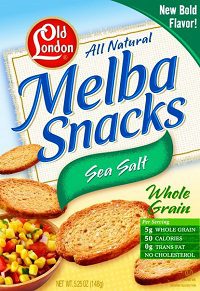 Product Name:  Old London Melba Snacks
Product Information: As summer begins to wrap-up, let Old London help you entertain in style with delicious recipes perfect for a BBQ, cocktail party or simply an evening at home with these tips:
Set the mood lighting with votive candles set in a variety of drinking glasses. The mixture of all the different glasses provides a casual feel, while the candles' illumination gives off a warm, welcoming light.
Serve light, yet easy appetizers. Old London's line of Melba Toast and Melba Snacks provide the perfect base for creating hor d'ourves guests will love. Check out Dr. Susan Kleiner's snacking recipes for appetizer inspiration.
Don't want to worry about washing dirty dishes at the end of the night? Instead, create a feast centered around finger foods guests can eat without serving utensils on a small plate or napkin. This kind of meal also eliminates the need for a sit down dinner, allowing guests to mingle and talk to each other more.
Crispy Shrimp Fritters by Christopher Kostow
Total Time: 50 minutes
INGREDIENTS:
20 Old London Sea Salt Melba Snacks, ground fine in food processor
1 lb. Shrimp, peeled and deveined
2 Eggs, whites and yolks separated
1 tbsp. Heavy cream

2 ribs Green celery, diced small1 bunch Chives, minced
1 cup Flour
2 cups Olive oil
1 pinch Cayenne pepper
Salt, to taste
DIRECTIONS:
In a food processor, pulse the shrimp, egg whites, and cream until combined but still chunky. Add the chives, celery, and cayenne pepper. Form the shrimp paste into small balls. Dredge the balls in flour, then into the beaten yolks, and then into the ground Melba Snacks.
Heat the olive oil in a heavy skillet. When hot, add the shrimp balls and cook until well browned. Remove from the pan and transfer to a paper towel. Season with salt. Serve immediately.
My Thoughts:   I love being able to use one product, many different ways!  Especially when I'm out of key ingredients and I have my mind made up on what I want to cook for dinner.   Honestly before I was asked to review the Old London products, I would not of thought to use these Melba snacks any other way.  But they really are a perfect substitute in so many recipes.
Besides the Crispy Shrimp Fritters recipe above, you could easily use them in place of bread crumbs in just about any recipe.  I think they would taste awesome baked on top of some scallops!
While making chicken recently, I ran out of bread crumbs.  I had more chicken than I had anticipated so my calculations were wrong.  So I broke up several of the Whole Grain cheddar melba snacks and mixed them in with the remainder of bread crumbs I had, and added a few more seasonings that my family likes – onion powder and Italian seasonings.   They worked perfect as a substitute and everyone loved them.
We also enjoyed snacking on the Melba Snacks as they were, and topped with cheese!  They are a yummy snack and have a great crunch to them, which I love.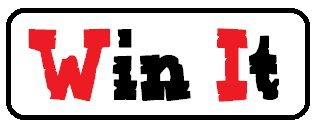 (1) Koupon Karen reader will win an Old London Prize pack, full of assorted boxes of the Old London product line.
To enter the giveaway, use the rafflecopter widget below. You can now sign in with Facebook and it will remember you each time you enter another rafflecopter giveaway. Of course Facebook is in no way associated with this giveaway, the people of rafflecopter just want to make it easier for you to enter giveaways now.
As a reminder, comments left on Facebook or Twitter will not be included.
Disclosure: I received the same prize as the winner for review. My opinions are 100% mine.