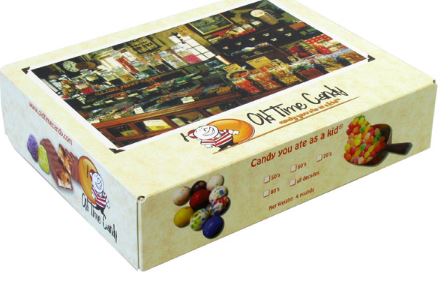 This post is Sponsored by Old Time Candy but my opinions are 100% my own!
I love candy.  Always have and always will.  I'm currently following the Nutrisystem program so right now I am not eating candy (I will again someday!) but that hasn't stopped my family from eating candy.
Have you heard of Old Time Candy?  It's a website that sells candy from years ago.  You know that stuff you ate as a kid that you don't find in stores anymore!   They sell what they call Decade Boxes and these boxes are full of candy that was either first introduced in that decade or very popular then.   You can get Decade Boxes from  the 1950s, 60s, 70s, 80s and they are available in two sizes. The 4 lb box measures 12 x 9 x 3 inches and is jammed with over 70 of your old-time favorites. The 2 lb box is 9.5 x 7 x 3 inches with over 40 pieces of candy, 35 different candies.
I choose the 70's decade box because my husband and I both were born in the early 70's and I thought it would be fun to see some of the candy from back then 40 years later (yikes!).  There is a list on the website of what you can find in each decade box but I choose not to look through it before the box arrived because I love surprises.
This is what I saw when I opened the box…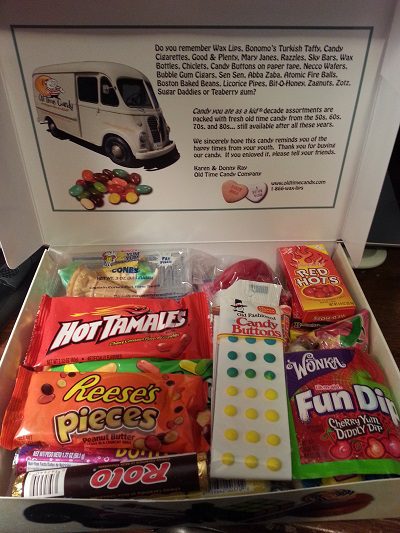 I thought it would be really fun for our daughter's to see the candy and I made a video of them going through the candy box…  It's long but wicked cute!
They had so much fun, can you tell??
In case you couldn't keep up or didn't watch the entire video, this box contained the following candies….
1970 – 4 lb assortment – 100 Grand Bar, Atomic Fire Balls, BB Bats, Bit-O-Honey, Blow Pops, Boston Baked Beans, Bottle Caps, Bubble Gum Cigars, Butterscotch Disks, Candy Buttons on paper tape, Candy Cigarettes, Candy Necklace, Candy Ring, Caramel Creams (Bull's Eyes), Charleston Chew, Charms Assorted Squares, Charms Sweet Pops, Chick-o-Stick, Cinnamon Disks, Dubble Bubble Gum, French Chew Taffy, Fruit Stripe Gum, Gobstoppers, Good & Plenty, Home Run Baseball Gum, Hershey Special Dark Bar, Hot Dog Bubble Gum, Hot Tamales, Jawbreakers, Kit Kat, Kits Taffy, Laffy Taffy, Lemonheads, Lik-M-Aid Fun Dip, Lollies, Marshmallow Ice Cream Cones, Mike & Ike, Necco Wafers, Now & Laters, Peanut Butter Bars, Pixy Stix, Pop Rocks, Razzles, Red Hots, Reese's Pieces, Ring Pops, Rolo, Sixlets, Smarties, Peppermint Sticks, Sugar Daddy, Swedish Fish, Tootsie Pop Drops, Tootsie Pops, Tootsie Roll, Wax Bottles (Nik-L-Nips), Wax Lips, Whatchamacallit, York Peppermint Patties and Zotz Sours.
I loved it all and my husband and I seriously had flash backs when we saw some of the candy in there.   We are excited to share this with our friends, especially the ones that were born in the 70's as well.  I'm sure they'll find their favorites in that box too.
They also have chocolate lovers boxes, sugar free assortments, glass jar assortments and candy grab bags.  You can even personalize the box for a special event.  The 4 lb decade boxes sell for $39.99 and the 2 lb decade boxes sell for $29.99.
If you don't want an entire Decade Box you can also pick candy from a certain decade all the way back to before the 1920's!  It's fun just looking through the website and I think these would make great birthday gifts for those hard to buy for people.

(1) Koupon Karen reader will win a 4 lb Decade Box of their choice from Old Time Candy!

To enter the giveaway, use the Giveaway Tools widget below. This is a new widget I'm trying and I hope you like it. Please let me know if you have any questions about it or problems with it! Of course Facebook is in no way associated with this giveaway!
As a reminder, comments left on Facebook or Twitter will not be included. You must follow the instructions on the widget about the proper way to enter.
Disclosure: I received a Free product for review. My opinions are 100% mine.