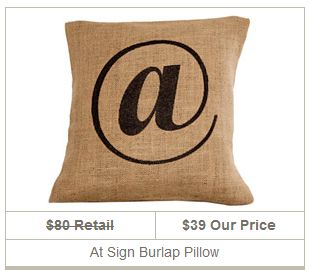 Today at One Kings Lane they have this really cute At Sign Burlap Pillow.  It makes me think of blogging, tweeting or just being online in general.  I thought it was cute.  SO if you still have your $15 credit from One Kings Lane that you received when you signed up, perhaps you may want to grab this!  With the credit it's only $24.00 plus shipping.
They have other pillows with symbols as well including….
!@#$%&* Burlap Pillow
Question Mark Burlap Pillow
Ampersand Burlap Pillow
You can also grab this beautiful Vera Wang Bowl!! I love this!!!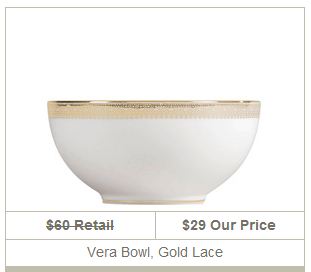 With the credit it's only $14 plus shipping, but even at $29 I think it's a great price.
To get the $15 credit all you need to do is sign up with One Kings Lane through this link and the $15 will show up in your account!  You can even use it towards shipping!