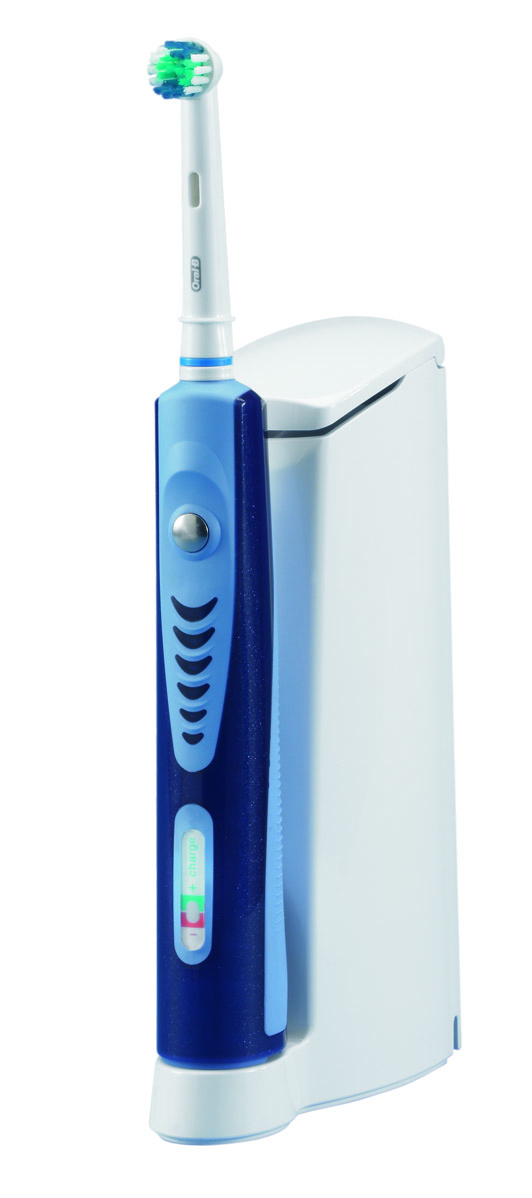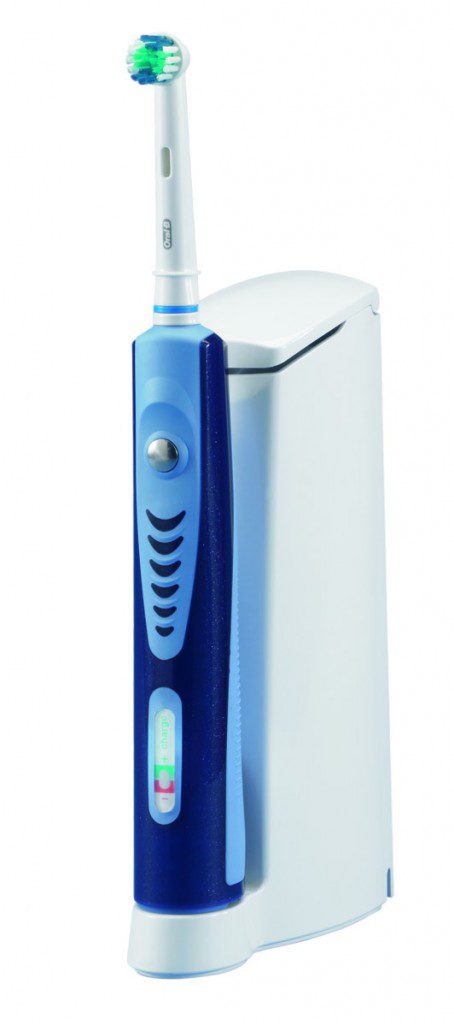 Product Name: Oral-B ProfessionalCare 3000
Product Description: Using an Oral-B® rechargeable oscillating rotating toothbrush can help remove up to 100% more plaque than a regular manual toothbrush, prevent gingivitis and reach deep between teeth and along the gum line for a thorough clean. Oral-B's portfolio of rechargeable oscillating rotating power toothbrushes give you that dentist-like smooth clean feeling and include a variety of brushes to meet different needs and budgets.
The Oral-B ProfessionalCare 3000's  advanced oral care system promotes excellent cleaning for healthy teeth and gums as well as stain removal for natural whitening. Its 3D Excel Action pulsates to loosen plaque and oscillates to sweep plaque away, helping to keep your mouth looking and feeling great.
Why Power?

Power Toothbrushes are Clinically Superior to Manual Toothbrushes in Reducing Plaque and Gingivitis:

Oral-B rechargeable toothbrushes that employ oscillating-rotating technology are clinically superior to manual toothbrushes at reducing plaque and gingivitis. In 2005, an independent review concluded that power toothbrushes with oscillating-rotating technology were shown to be more effective at reducing plaque and gingivitis.

Many Consumers Aren't Brushing Properly:

With a manual toothbrush, consumers are spending less than one minute brushing their teeth compared to a dental recommended two minutes.
An estimated 80 percent of Americans have some form of gum disease.
One-fourth of adults over age 65 have lost all of their teeth.
Tooth decay affects more than 90 percent of adults over age
Advanced gum disease affects five to eleven percent of adults.
Americans lose more than 164 million hours of work each year due to oral health problems or dental visits.
Almost one-third of people with diabetes have severe periodontal disease.6

Dental Professionals Recommend and Use Power Toothbrushes:

About 90 percent of dental professionals recommend power brushes to their patients.
About 70 percent of hygienists use power toothbrushes themselves.

Consumers Haven't Made the Switch:

85 percent of consumers are still using an ordinary manual brush.
Oral-B research suggests that approximately 50 percent of consumers would be inclined to try a power toothbrush.

A Power Toothbrush is an Investment:

Using a power toothbrush is an investment, but can start at as little as $22.
Product Price: $99.99 (Price after mail-in rebate: $49.99 Mail In Rebate expires 11/30/10), Replacement heads start at $7.35 at Soap.com and you'll receive 15% off your first order with code KXUP0749.
My thoughts: I received an Oral-B Professional Care 3000 power toothbrush for my review.  I've never used a power brush so I was excited to try it out.  It was hard to get used to at first, I kept wanting to move my hand back and forth, but the toothbrush does all the work for you.  Not sure if I could go back to using a manual toothbrush again.
My dentist has been telling me for a while now to invest in a good power toothbrush so I'm hoping he notices a difference at my next cleaning.
The toothbrush is extremely easy to use.  It comes with 4 different heads for whatever your needs are….clean, sensitive, pro-white and dual clean.  I don't have sensitive teeth so I haven't used that one yet, but I mostly use the clean one.  But they all store nicely inside the charger, which I really like.  There's nothing worse than trying to find something in the draws of my vanity.
The Oral-B Professional Care power toothbrush has 3 modes… clean, sensitive and polish.  I like to alternate between clean and polish.  You just keep pressing the on/off button to change modes.    It also has a 2 minute timer, which is the recommended length of time to brush your teeth.   They suggest you split your mouth into for sections and spend about 30 seconds on each section.  Every 30 seconds you'll hear a little change in the sound and can feel a little bit that it's time to move to the next section.  And then at the 2 minute mark you'll hear a longer sound.   I thought that was pretty cool!  My kids need something like that!
The brush heads all have the blue indicator color and should last about 3 months.  I like little reminders like that!
Would you like to win an Oral-B Professional Care 3000?
Giveaway: (1) Koupon Karen reader will win an Oral-B Professional Care 3000.
How to Enter: Leave me a comment and tell me if you use a manual or electric toothbrush.
Extra Entries: Once you do the above mandatory entry you can do any of the following an earn up to 5 more entries:
Follow @KouponKaren on twitter
"Like" Koupon Karen on Facebook –>  I have a new page so if you were previously my "friend on facebook" please like this page as well.
Tweet about this giveaway "I entered to win an Oral-B Professional Care 3000 Toothbrush @KouponKaren & you can enter too https://wp.me/pMKCI-40J" (you can tweet this once a day!)
Blog about this giveaway
Sign up to receive Koupon Karen daily emails or add me to your favorite reader
Details: This giveaway is open to US residents and will end November 10th at 11:59pm. The winner will be randomly picked and announced shortly after and will have 48 hours to claim their prize or I will randomly pick another winner.
Disclosure: The representatives of Oral-B sent me a FREE Oral-B Professional Care 3000 toothbrush for my review and they will also send the winner one as well.  This did not influence my post and as always, my words are my own.