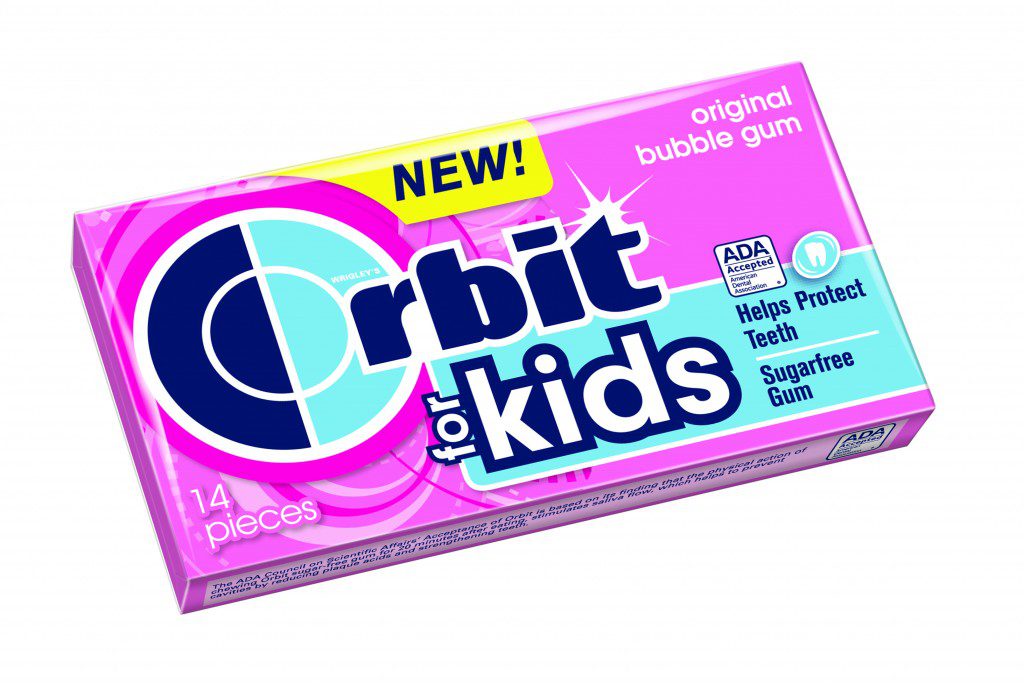 This post is Sponsored by Orbit® for Kids but my opinions are 100% my own!
Orbit® for Kids is a sugarfree gum that gives parents a fun and convenient way to protect their children's teeth between brushings. The benefits of chewing sugarfree gum, like Orbit® for Kids, include cleaning the mouth of food debris and stimulation of saliva flow, which helps to protect teeth by reducing plaque acids and strengthening teeth. By using Orbit® for Kids gum as a complement to brushing, flossing and rinsing with mouthwash, parents have another simple and fun option to help protect kids' teeth.
The new Orbit® for Kids gum is available in two kid-friendly sugarfree flavors – Original Bubble Gum and Strawberry Banana. It comes in two versatile package sizes: 14-tab envelopes and Multi-Pack bags of 10, six-tab micro Packs. Additionally, packaging will feature new, fun designs and color schemes to help encourage a family-wide interest in oral care on-the-go.
Orbit® for Kids gum has been awarded the ADA Seal of Acceptance.
My girls love chewing gum but I do worry about their teeth so I don't let them too often.  It's more of a treat, and that's OK.   They love the NEW Orbits for Kids and the flavors are really yummy and I know because I've been chewing it too!
Orbit for Kids – Oral Care Tips
To help your family maintain good oral health, implement a regular routine of brushing, flossing, rinsing with mouthwash and chewing sugarfree gum like Orbit for Kids after eating and drinking when on the go.
Help your kids maintain their oral care routine by making it fun! For example, let them pick a toothbrush in their favorite color, play their favorite song to show how long they should brush, or give them sugarfree gum to help protect their teeth on the go as a complement to their oral care routine.
When on the go, make sure you're prepared with things that can help protect your kids' teeth in between brushings. This could include bottles of water, or sugarfree gum like Orbit for Kids, to help increase saliva flow and clean the mouth of food debris.
Help your kids incorporate healthy habits throughout the day like chewing sugarfree gum when going to and from after-school activities and during study time as a fun way to help protect their teeth.
Set a good example for your kids with your own oral care routine and show them it's a priority for you. You can do this is by brushing, flossing and rinsing twice a day and chewing sugarfree gum after eating or drinking while on the go.
Reinforce kids' good oral care habits by providing rewards such as extending story time or giving stickers each time they brush, floss, rinse or chew sugarfree gum.
Choose oral care products that come in flavors and colors that appeal to kids so they're more likely to use them.  Orbit for Kids comes in two kid-friendly flavors, Original Bubble Gum and Strawberry Banana.
Keep it simple. Explain the importance of good oral care in basic terms that won't confuse. For example, just like we clean our bodies daily, we need to clean our teeth daily. We do this by brushing, flossing, rinsing and chewing sugarfree gum.
Brush and floss your teeth alongside your children, this shows them how it's done and allows you to supervise to ensure good habits are forming.
Post photos of your kids' favorite athletes, celebrities or even cartoon characters with big, healthy smiles near the sink to serve as motivation for keeping their teeth healthy.
Start taking children for regular dental check-ups within 6 months of the first tooth's arrival or by one year of age so they become more comfortable with the process at an early age.
Be mindful of what your family eats and drinks throughout the day.  Frequent consumption of juice or sugary drinks can increase risk of decay.
These are great tips and I try to brush my teeth often so they will learn by example.  We also drink mostly water in our house, as juices are for special occasions or when we are out.  My girls don't like to drink soda and I'm OK with that since I know how bad it is for their teeth.

(1) Koupon Karen reader will win a months supply of Orbits for Kids Gum!

To enter the giveaway, use the Giveaway Tools widget below. Email and feed subscribers will need to click through to the site to enter the giveaway.
As a reminder, comments left on Facebook or Twitter will not be included. You must follow the instructions on the widget about the proper way to enter.   Of course Facebook is in no way associated with this giveaway!
Disclosure: I received a Free product for review. My opinions are 100% mine.