This post is Sponsored by Staples but my opinions are 100% my own!
Staying organized is something I strive to do.  So whenever I can try out a new product to get me organized and keep me organized, I get excited!  Running a business from home, running a house hold, being a mom, wife and friend leaves me little time to look for things when I need something important.  So putting those important things in the right place, makes my life easier when it's at it's busiest.
However, putting them in that place is a whole other story!
Staples has a lot of great products to get you organized and keep you organized.  Whether in the office at work, or the home office, we all have important documents that we need to find quickly at times.  Especially during tax time.
Staples send me a some items to help me get my home office in order.  Our home office consists of my business paper work, our personal paperwork and the girls school work that I like to keep.  At almost any given time, I have piles and piles of 'stuff' that needs to be filed, sorted, cataloged and sometimes shredded.
I have a very big stack of school work I want to keep from Kindergarten up.  They are now in 1st and 3rd grade so needless to say I'm pretty far behind.This is just a portion of my stack!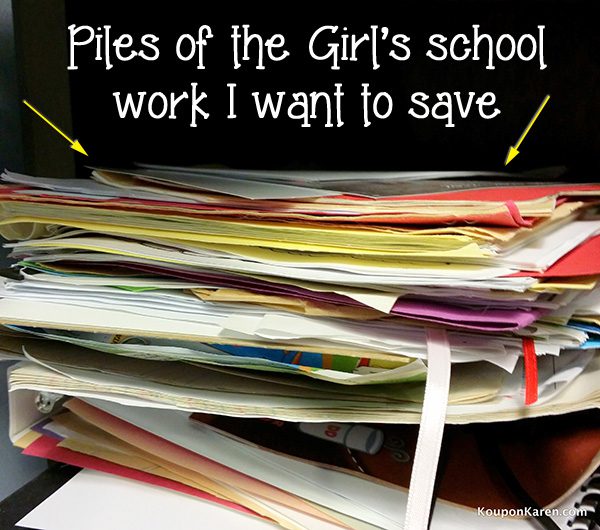 Staples has systems for everyone and everything and sometimes you may need to think outside the box, to figure out how to use those systems.  I love their Better binders that have a USB drive that stores right on the spine of the binder.  And it snaps in there really good so it won't fall off.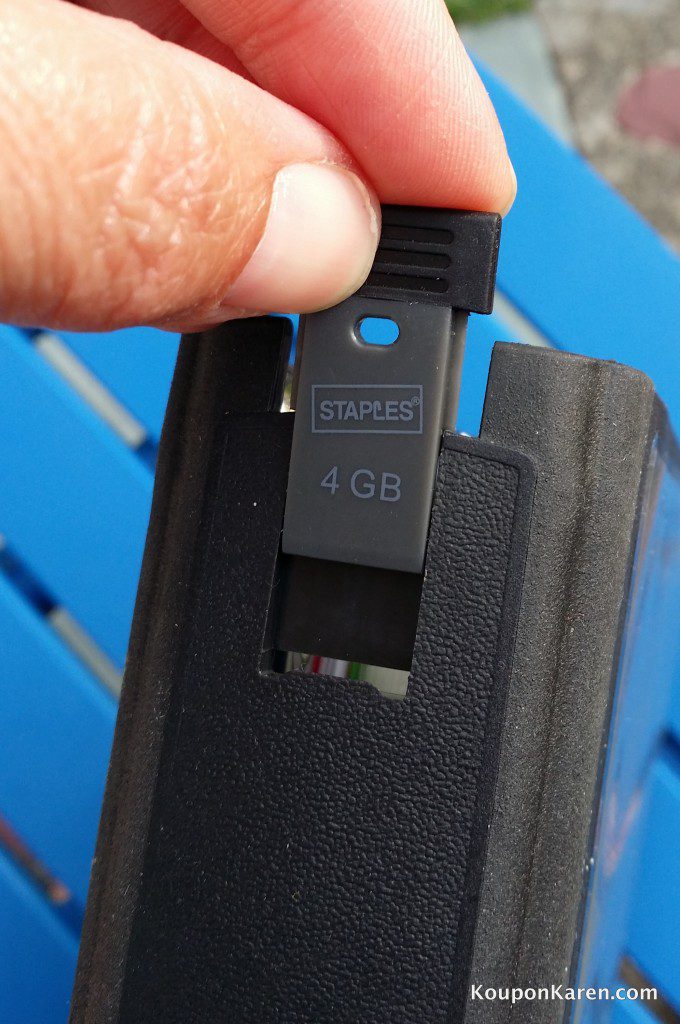 4 GB gives you plenty of room too.  These are perfect for storing the girl's school work I want to keep.   I can scan in those documents that I don't have to keep the hard copies of and store them on the USB drive.  And then the ones I want to keep the originals of, I can file in the binder.   Then I can get rid of my piles and have just one binder for each girl.
Another system I love is ht Arc system.  Have you seen this in stores?  It's exclusive to Staples and I find it very handy and affordable.  The Arc system comes in two sizes – 8 1/2 x 11 and 5 1/2 by 8 1/2.  I've been using the smaller size for a few years now.  It's my blog organizer book and I love it.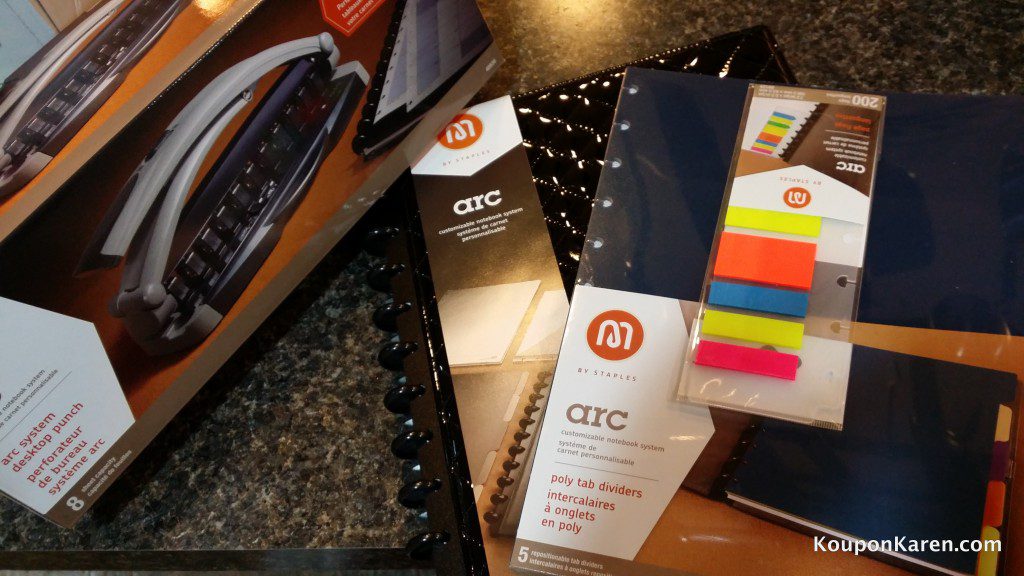 I recently received the larger Arc system an also the hole punch system along with a few filler items for review.  I knew right away what I wanted to use the larger size Arc for in my home office.  Because of my business, I have an accountant do our taxes.  It's way to complicated for me so I'd rather make sure we do everything right!  Throughout the year I have a file folder in my desk that I use for items that he'll need at tax time.  Then before I see him, I go through the folder, pull out anything I don't end of up needed and then I organize the items to make his job faster and easier.
The Arc system is great for this exact project.  Sine the desktop punch can punch holes in any size paper, it's perfect for all my tax paperwork.  And I can use the tab dividers to separate the papers as I see fit and then my accountant can just flip through the folder while doing my taxes.  I can also use the flag stickers to make notes for him rather than write on the paperwork.  And since you can take the pages in and out easily, I can re-arrange it as needed, and he can take things out as goes through them.
Definitely makes tax time so much easier.  Then after my taxes are done, I can either file the entire binder with my taxes, or take everything out, staple it together and file with my taxes and then re-use the binder for the following year.
This system works for me and it may work for you.  Give it a try!
Disclosure: I received a Free product for review. My opinions are 100% mine.