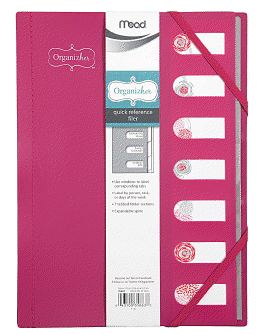 Product Name: Mead Organizher Quick Reference Filer
Product Information: This portable organizer gives Mom the flexibility to organize paper by day of the week, person, task or any other category she needs. It includes 7 folders and Bungees to keep it closed.  There is a labeling system in front cover that you can line up with the tabs.  It measures 9.5"wide  x 13"high.
Product Price:  $8.99

My Thoughts: I love that Mead is trying to help busy moms stay organized and this system is very helpful!  To make my life easier, I can write my labels on the front cover and when I open up the folder, the label is lined up with the tab that I am looking for.  It makes searching for things much easier!  I am using mine to help organize may shopping for the week.  Each tab has a store name, then I file the coupons and my shopping list inside the folder for each store.  I keep the coupons in an envelope that I clipped inside each folder so they don't fall out.  Then when I leave the house, I grab the folder which has my shopping list and my coupons!  I've been doing this for a few weeks now and it really works well for me.
The Quick Reference Filer is good for more than just organizing my shopping.  I can see this as a very handy tool for a mom who has very busy children.  You can file all the important paperwork for each child, in their own tab.  You could also use it to sort bills as well.  I love how easy it is to organize the tabs and the bungees keep everything inside.
It's a pretty cool product, you should check it out!

WIN IT
Entry is simple!  Follow the instructions in the box below on how to enter.   There will always be ONE mandatory entry and lots of extra entries.   Once you do the required entry, just click "I did this!" and your all set.
As a reminder, comments left on Facebook or Twitter will not be included.
Disclosure: I received the same prize as the winner for review. My opinions are 100% mine.