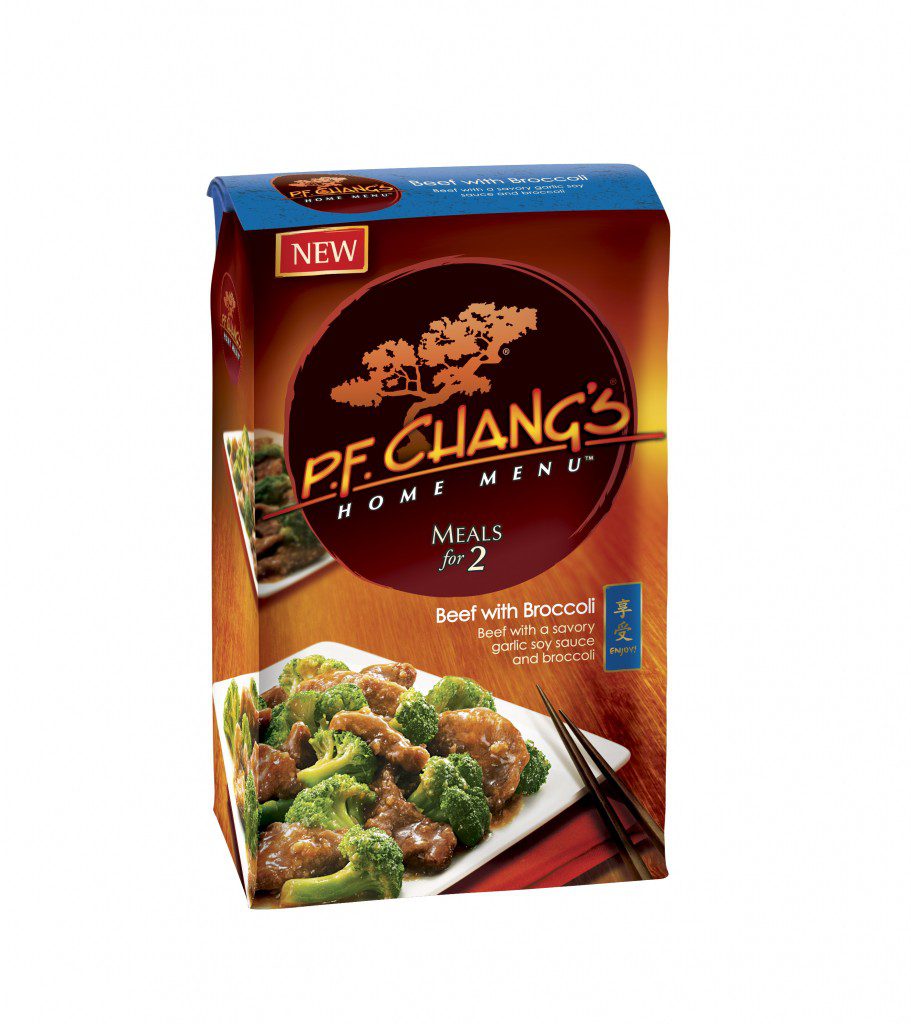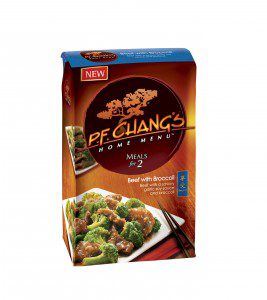 Product Name: P.F Chang's Home Menu
Product Information: P.F. Chang's Home Menu is a new line of premium Asian frozen entrées that captures the bold flavors associated with P.F. Chang's. With P.F. Chang's Home Menu, fans of P.F. Chang's can now conquer their cravings for its signature Asian cuisine at home, when they can't get to a restaurant.  Made with high-quality ingredients and featuring intense flavors, the bold, frozen meals for two are convenient and easy to prepare, going from the skillet to a succulent restaurant-quality meal at home in just minutes.
The P.F. Chang's Home Menu features fresh-tasting, high-quality ingredients, including Asian vegetables like edamame, water chestnuts, snap peas and bok choy. Each entrée includes chicken, beef or shrimp, with up to 25 percent of total volume in protein.
Proprietary technology ensures that the ingredients for the entrée are frozen without losing any of the bold flavor, and allows the different ingredients to cook together for consistent quality and taste. Sauces are frozen in Unilever's unique sauce cube format, melting over and glazing the high-quality proteins and crisp vegetables as the entrée cooks.
Eight Delicious Varieties:
Orange Chicken – Battered white meat chicken with a spicy orange sauce, carrots, water chestnuts and edamame
Shanghai Style Beef – Beef with a sweet and savory sauce, onions, string beans and red bell peppers
Sweet & Sour Chicken – Battered white meat chicken with a balanced sweet and tangy sauce, pineapple and bell peppers
General Chang's Chicken – Battered white meat chicken with a sweet chili sauce, broccoli and red bell peppers
Ginger Chicken & Broccoli – White meat chicken with a fragrant ginger sauce, broccoli and red bell peppers
Beef with Broccoli – Beef with a savory garlic soy sauce and broccoli
Shrimp in a Garlic Sauce – Shrimp with a garlic sauce, carrots, red bell peppers, water chestnuts and snap peas
Shrimp Lo Mein – Shrimp with a sesame soy sauce, bok choy, mushrooms, celery, carrots and lo mein noodles
My Thoughts: I am not big into Asian foods however I do enjoy beef and broccoli so when I was asked if I wanted to review the  new P.F. Chang's Home Menu I said yes and I picked up the Beef with Broccoli especially since it is in a garlic sauce.. I love garlic!
I have to say I'm very impressed with this meal.  Not only was it super easy to  make (all I needed was a pan and a cover, that's it) but it was really good.    What made it good to me was the fact that the broccoli still had some crunch to it, which is the way I prefer cooked broccoli to be and the beef was very tender.  Honestly I was expecting the beef to be tough but it was the complete opposite of that!   The sauce wasn't too creamy, nor was it too thin.  It was just right!  And then cleanup was a breeze since I only used a pan and then served it right from the pan onto our plates.  Super quick and easy when you have one of those nights where quick and easy is needed!
Win It: (2) Koupon Karen readers will each receive a coupon for a FREE P.F. Chang's Home Menu item.
How to Enter: Leave me a comment telling me which variety you'd like to try.
Extra Entries: Once you do the above mandatory entry you can do any of the following an earn up to 5 more entries:
Follow @KouponKaren on twitter
"Friend" Koupon Karen on Facebook
Tweet about this giveaway "I entered to win P.F. Chang's Home Menu @KouponKaren & you can enter too https://wp.me/pMKCI-48D" (you can tweet this once a day!)
Blog about this giveaway
Sign up to receive Koupon Karen daily emails or add me to your favorite reader
Details: This giveaway is open to US residents and will end October 22th at 11:59pm. The winners will be randomly picked and announced shortly after and will have 48 hours to claim their prize or I will randomly pick another winner.
Disclosure: I received FREE product coupon to try P.F. Chang's Home Menu and they will also provide the winner a FREE product coupon.  As always, my words are my own and were not affected by the freebies!