I'm Italian and VERY picky when it comes to the sauce so I want to share my pasta sauce recipe with you (or gravy as my family calls it!).  I won't eat pasta at certain restaurants because I don't care for their pasta sauce.   I want a nice tomato flavor to my sauce and it's so simple to make that I thought I'd share it with you.
When in a pinch I will use jarred tomato sauce but I always flavor it.  But when I have time for it to cook I'd prefer to use canned tomatoes and my favorite Italian seasonings and meats to give it an awesome flavor.
You'll need two cans of Tomato Puree or Crushed Tomatoes (I prefer Cento or Pastene Kitchen Ready) or sometimes I use one of each, olive oil, crushed garlic, dried or fresh basil, salt, pepper, onion powder, and your favorite Italian Seasoning.  I love the Pampered Chef Italian Seasoning and Perfect Pinch Italian Seasoning.
Pasta Sauce Recipe
Start off with putting about 1 tablespoon of Olive Oil in the pan and begin heating on med/low heat.  Then add 1 or 2 cloves of crushed garlic, depending on how much garlic you like!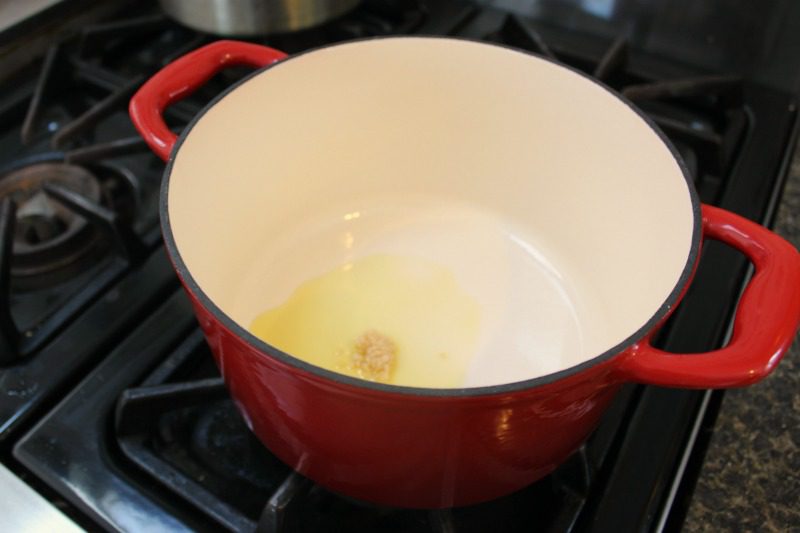 To give my sauce a really yummy flavor, I like to cook some meat in it.  If I'm making meatballs, I'll cook them in the sauce, but if I'm not then I'll toss in whatever I have on hand… some Italian Sausage, a piece of pork, some steak or meatballs.  My supermarket will sometimes sell a package with a few pieces that I mentioned just for making a sauce!  I'll grab that when I see it and toss it in the freezer if I'm not using it right away.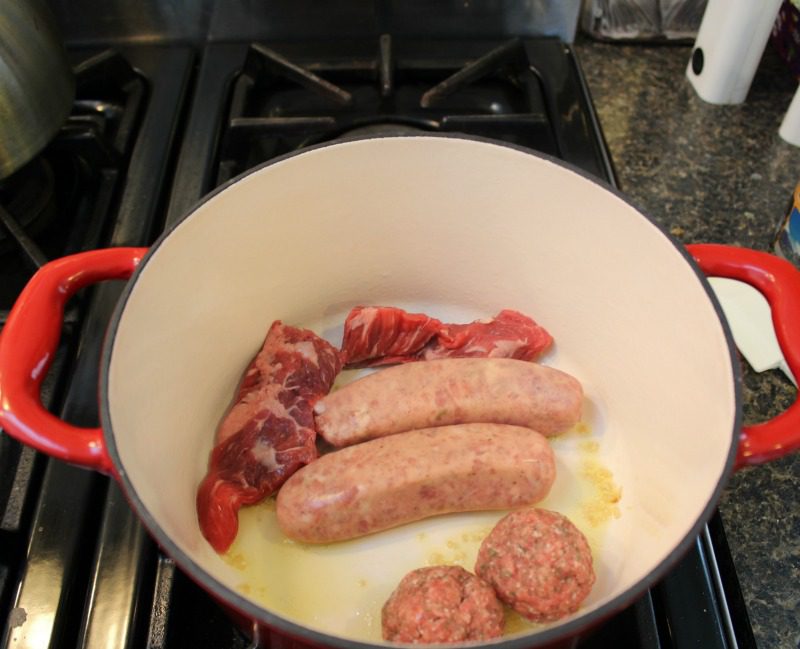 I brown those on both sides in the garlic and olive oil and then I add the tomatoes.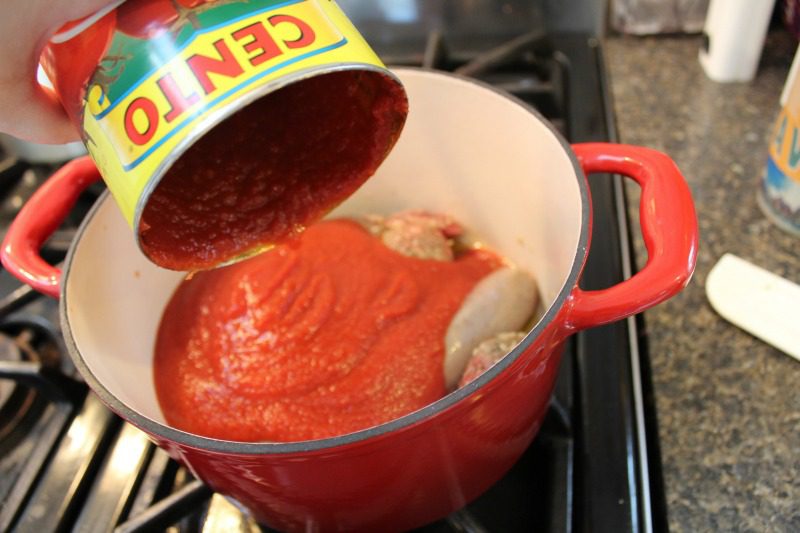 I love the red color of tomato sauce!!!
Then I add my seasoning… it's all really to taste but to give you some ideas I add about 1/4 cup of dried basil/Italian Seasoning, 1 teaspoon of salt, some fresh ground pepper, 1 teaspoon of onion powder, and also garlic powder if you want more garlic.  In the summer when I have fresh basil in my garden, I'll toss a few leaves right into the sauce… so good!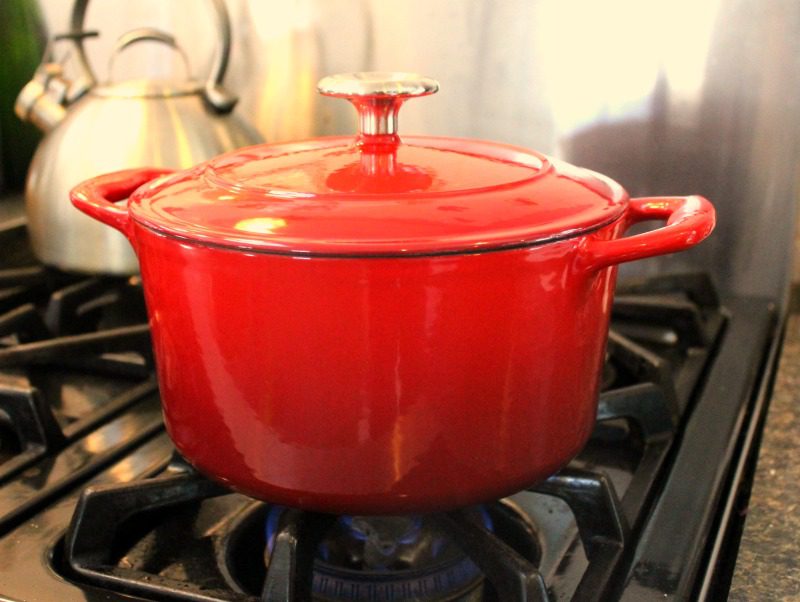 I cook that on low/medium heat for about an hour or two, depending on how much time I have. If I have a lot of time, I'll let it simmer more.  Once it comes to a boil, I'll turn it on low or simmer and just stir occasionally.
I like to cook this in my Tramontina Cast Iron Enameled Dutch Oven because it heats and cooks nice and evenly.  It has superior heat retention and distribution which is perfect to slowly and evenly heat and tenderize meats, poultry, and vegetables.  It's perfect for making a sauce in!   This dutch oven
is compatible with gas, electric, ceramic glass, and induction cooktops and it's oven safe up to 450° F / 232° C!
But it's not just good for cooking in.  It's so pretty that you can use it to serve your food in as well.  And if you pre-chill it in the refrigerator you can serve cold foods in it and they will stay cooler longer!
After the sauce is done, cook some pasta of your choice and get some nice crusty Italian bread and you have a homemade Italian Pasta dinner!
Disclosure: This product was provided to me free of charge from Ebay.  My opinions are 100% my own.