Pete's Dragon is nothing like the original, so if you haven't seen it that is OKAY!  You can still go see this one and know what's going on.  So read on for my Pete's Dragon Movie Review and some great images as well!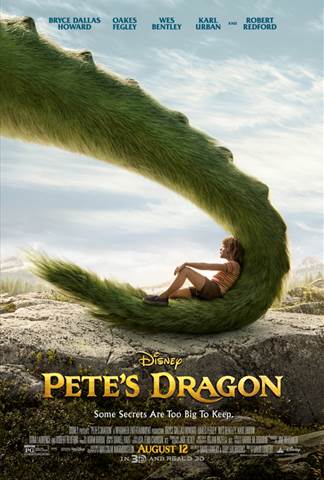 Disclosure: I received an all expenses paid trip to LA for the Pete's Dragon premiere and junket.  No one told me what to say or how to think.  These are all my words and 100% my own thoughts!
Pete's Dragon Movie Review
While in LA this past weekend, I attended the world premiere of Pete's Dragon.  (Make sure you read about the fun I had at the Pete's Dragon movie premiere too!)   I couldn't wait to see this movie from the first time I saw the trailer.
It stars Robert Redford and Bryce Dallas Howard, the father daughter team – Mr. Meacham and Grace –  who both did an amazing job!
Pete is played by Oakes Fegle and not only is he adorable, he's a great actor and so smart!  We also had the chance to interview him and I'll be sharing that with you soon.  Oona Laurence plays Natalie, the daughter of Jack (Wes Bentley) who you may recognize because she has another film out right now too.
The movie starts out with Mr. Meacham telling a tale about a dragon in the woods.  No one believes his tales even his daughter Grace.  Then Pete comes into the picture and shares the same love of the woods as Grace.  Pete begins to tell her about his best friend Elliot who he wants to go back to and she starts to wonder if perhaps her father's stories aren't really stories after all.  Perhaps they are real?!
The love between Pete and his best friend Elliot is so amazing and inspiring and very similar to the way Grace feels about the woods and the trees that make up the beautiful land that she knows all so well.  But that love is not enough when Jack's brother finds out about Elliot and that's when this story takes a little bit of a turn.
I don't want to spoil anything so I'll leave it at that!  But I will tell you that this movie is funny, sad and heartwarming all at the same time!  You'll need tissues for sure, and if you don't believe in magic, you will at the end of the movie.
I feel that it's a great movie for all ages and I highly recommend you take the kids to see it before school begins!  There are a few parts that may upset smaller ones so it may depend on your child, but I'm taking my girls this weekend (ages 9 and 11).
You will fall in love with Pete and Elliot and I guarantee you that you'll walk out of the theater wanting a pet dragon just like I did!
Now that you've read my Pete's Dragon movie review, I'm sure you want to see it?  Well you are in luck because Pete's Dragon flies into theaters everywhere tomorrow, Friday 8/12/16.   Rain or shine this weekend, carve out a little bit of time to see this movie and renew your belief magic and love and family!
Follow along:
Pete's Dragon Website | Pete's Dragon Facebook Page | DisneyPetes on Twitter | Pete's Dragon on Instagram