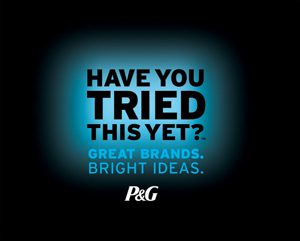 As a busy mom of 2 small children, anything that can help make my day easier is good in my book!  That's what I love about P&G's new campaign Have You Tried This Yet?, it's designed to showcase  high-performing products with benefits that help moms conveniently meet their daily needs of their families. Now more than ever, family decision makers are looking for high performing products that make life easier and that are cost effective. This initiative does just that – it makes shopping for innovative products effortless and cost effective!
Not only did they recently feature $131 in savings in their February 27th P&G coupon insert, but they also have a new website where you can get coupons and free samples of the products they think help mom's most.  Make sure you request some coupons before they are gone!
P&G sent me a box full of some of their awesomest products (is that such a word?!) and I was so excited when it arrived.  Some of my favorite products were there and then some I haven't tried in a while or at all.
Here are a few of my favorites and why…
Like I said the box was filled with more products but these are a few that I feel make my life easier…… diapers that don't leak, fresh smelling clothes and towels, toothpaste that works the first time, mascara that makes me feel like a pretty mom, deodorant that I know won't fail, Maxi pads that make me more comfortable especially in warmer weather, Air freshener that works, is cheap and looks cute and tissues that make my little girls noses feel better when they aren't feeling good.
I do think that when P&G creates products they truly do have the consumers everyday routines in mind.  I feel they make products that will work the first time and consistently!
What is your favorite P&G product that helps make your days easier, whether you are a mom or not?  And keep an eye out for a giveaway next week of some great P&G products!!!
Disclosure: I received a variety of products from P&G for my review. I am also the P&G Everyday Solutions Guest Blogger for the next two weeks.  This did not influence my post and as always, my words are my own.