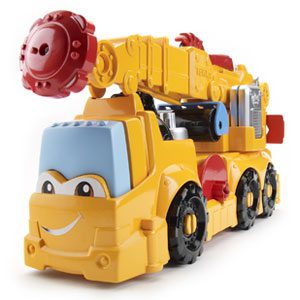 Product Name: Play-Doh Diggin' Rigs Buster the Power Crane
Product Information:  Hasbro combines construction trucks with Play-Doh in the new Diggin' Rigs line. Using Play-Doh compound to activate lights and sounds, kids can build, bash, scoop, and smash. Buster the Power Crane is the centerpiece of the Diggin' Rigs crew and comes with 10 tools. His button-activated voice encourages interaction and play, and when kids push Play-Doh compound through the crane boom, more lights and sounds are activated. Kids can lift Buster's crane and push Buster along as well as use the Play-Doh tools to create and build with Play-Doh bricks and more. Buster comes with four three-ounce cans of Play-Doh compound in specialty colors: metal, brick, sand, and asphalt. Also included are two hand tools for rolling and cutting Play-Doh, two boom attachments, and two book molds, allowing kids to cut, stamp, and mold Play-Doh compound into other construction-themed creations.
This is a fun new way to play with Play-Doh. Construction-themed play is a classic boys' play pattern, and this playset lets kids play with a fully functioning truck as well as build a construction scene out of Play-Doh. There's a lot of potential for creative, open-ended play with Buster the Power Crane.
Ages 3 and up.
Product Price: $21.99
My Thoughts:  My girls are big into play-doh and we have two bins full of play-doh and playsets that keep them busy for hours on rainy days.  So they were excited when we received Buster the Power Crane because this was so different from the rest of the play sets as you could play with the truck on its own as well!
First we pulled everything apart in the package and my little one played with the crane for a long time while her sister was in school.  We kept the play-doh part until she came home from school.  Almost immediately she was all over it once she saw it.  They loved the play-doh that came with it because the metal one (gray) had a simmer to it and so did the asphalt one (black) which was pretty cool.  We talked about what each color represented first and then they because to play and had so much fun.
Play-doh has been around for ever and I love how they keep making it fun and don't let it get old.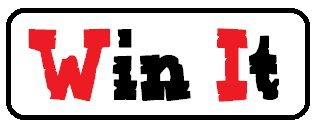 (1) Koupon Karen reader will win a Play-Doh Diggin' Rigs Buster the Power Crane!
To enter the giveaway, use the rafflecopter widget below. You can now sign in with Facebook and it will remember you each time you enter another rafflecopter giveaway. Of course Facebook is in no way associated with this giveaway, the people of rafflecopter just want to make it easier for you to enter giveaways now.
As a reminder, comments left on Facebook or Twitter will not be included.
Disclosure: I received the same prize as the winner for review. My opinions are 100% mine.