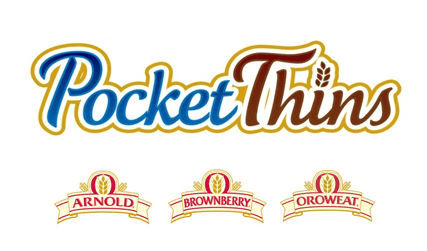 Product Name: Pocket Thins
Product Information:   Arnold®, Brownberry® and Oroweat®, the creators of Sandwich Thins® rolls, introduce the newest sandwich option:  Pocket Thins® flatbread.  Versatile and soft, these 100-calorie pre-sliced flatbreads are offered in Italian Herb, 8 Grain and 100% Whole Wheat.  Pocket Thins® flatbreads are sold under the Arnold® brand name in the East, Brownberry® in the Midwest and Oroweat® in the West.
The are available in Italian Herb, 8 Grain and the NEW100% Whole Wheat was just launched!

Product Price: $3.49 – $3.99
For more information, visit the NEW Pocket Thins® flatbread tab on Facebook.com/SandwichThins.
My Thoughts:  My girls love sandwiches for lunch.  And they love bread.  So these went over very well in my house.  The day the package arrived my mother happened to be here.  She was very intrigued when she saw them and asked if she could have one.  I love to share with my mom so I gave her the Italian Herb because I knew she'd enjoy that one the most.  And she did!  She called me the next day to tell me they had them for lunch and LOVED it!   The Italian Herb pocket made their regular turkey sandwich that they normally have on wheat bread, so much yummier!  (That is what she said).  So it was a hit with my parents.
The girls love Wheat Bread, even though they have no idea how good it is for them.  So we pulled out the 100% Whole Wheat when it was lunch time.  My Kindergartener only goes to school in the morning and loves having lunch with mommy so she was excited to try the pocket.  She's had them before and we usually put peanut butter in them for her.  So that is what we did!  Only this time we added a banana.   She's been wanting to try a Banana/Peanut Butter sandwich so I thought this would be the perfect way for her to try it since it won't fall out of the pocket.  And it was!
She loved it.  The peanut butter, the banana and the pocket bread.  She asked for this the next day as well.
My older daugther is in school for lunch and she doesn't do sandwiches at school because by the time she has lunch she says it's too soft and soggy.  So she asked if she could have a sandwich for dinner one night so she could try the pocket.  So I whipped up her favorite – tuna salad – and her and I had tuna in a pocket.   We topped off the tuna with black olives (her favorite way to eat tuna) and put some inside the 8 Grain Pocket.  It was delicious!
I'm sure everything you put in a sandwich would be delicious in a pocket, but I find it's especially helpful for items such as the banana and tuna that might fall out from the sandwich while the kids are eating it.   And I love they make these in 100% Whole Wheat and 8 Grain varieties because they are healthy for my kids while being 'fun' to eat at the same time.
Another thing we did with the pocket thins is made quick mini pizza's with them!  We sliced one open and spread a little sauce and some cheese and tossed it into the microwave for a few seconds to heat up the sauce and melt the cheese.  It reminded me of English muffin pizzas!  The girls absolutely LOVED them that way.
Have you tried the Pocket Thins?
Disclosure: I received FREE Samples for review. My opinions are 100% mine.