This post is Sponsored by Colgate-Palmolive but my opinions are 100% my own!
Did you ever think about what your hygienist was doing besides cleaning the plaque from your teeth?  I'm sure she polishes them at the end, right?  Do you know why she polishes them?  You may not because honestly I didn't know either until recently.  When the hygienist polishes your teeth at the end of your cleaning, she is buffing out any marks and smoothing out your enamel.   Why do this?  Because germs stick to your teeth when they are rough, and that breaks down your enamel.
Pretty interesting, right?
So what can you do in between cleanings?
Polish Your Teeth So Germs Don't Stick with NEW Colgate Enamel Health
If you've ever walked down the toothpaste aisle (which I'm sure you have) you'll probably agree that there are a lot of options out there.  And while they all have their reason for why you should use them, sometimes you have a specific need.  Like polishing your teeth in between cleanings to keep them from getting rough!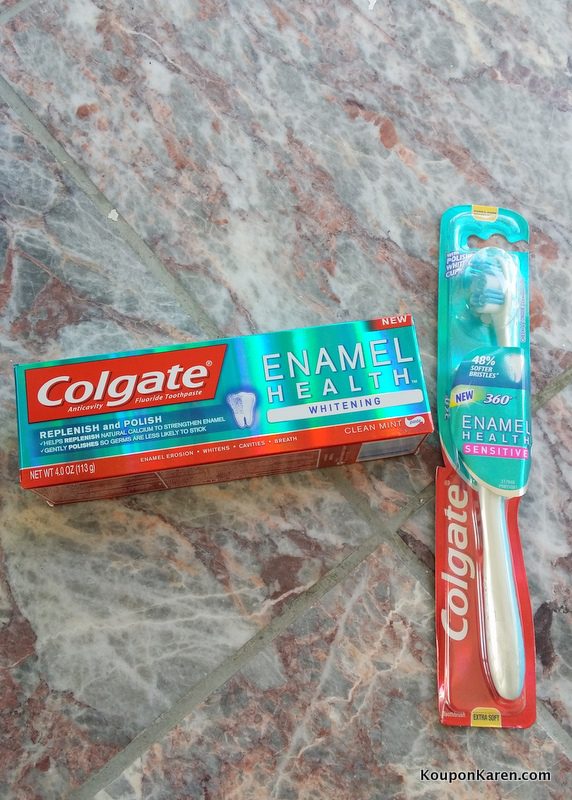 Colgate has added to their dental care line – Colgate Enamel Health toothpaste.  You can replenish and polish your teeth every morning and night, when you brush your teeth!   It's not all about keeping them smooth, it's also important to replenish the natural calcium which will strengthen the enamel.  Strong enamel makes happy teeth!
The NEW Colgate® Enamel Health Toothpaste helps smooth enamel in two ways:
Helps replenish natural calcium and other minerals back into weakened enamel, filling rough spots and making it stronger
Gently polishes the enamel surface with gentle micro-polishing action, so germs are less likely to stick to teeth
And to complete the line, the Colgate® 360°® Enamel Health™ Manual Toothbrush has several features that complement the toothpaste. The uniquely designed bristles help protect enamel surfaces and gums, while the polishing whitening cups gently remove stains for a brighter smile.   And the bristles are soft too!
I want to keep my teeth a long time so taking care of them is a huge priority to me.   If this is going to help them stay healthier than it's something I'll use.  I am not due for another cleaning for about 5 months but I'm hoping my hygenist will notice a difference in my teeth from using this now until them.
It did leave my teeth feeling clean and my mouth felt fresh so it did something!
For more information on Colgate® Oral Care Products, please visit Colgate.com.
If you are looking for giveaways, be sure to follow my Fun Giveaways Pinterest board!
Disclosure: I received a Free product for review. My opinions are 100% mine.