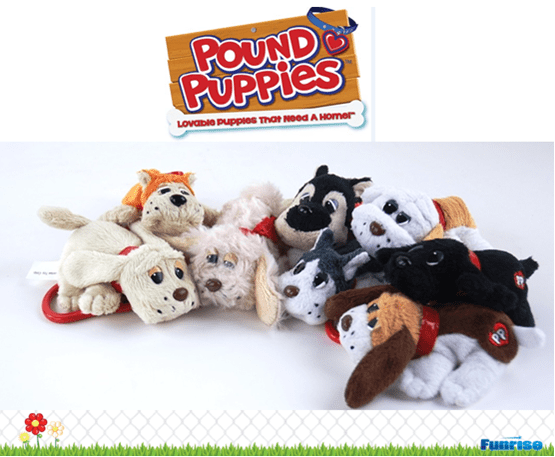 This post is Sponsored by Funrise but my opinions are 100% my own!
I grew up in the 80's and if you did too, then you probably remember when Pound Puppies came out because they were all the rage!  I had one and he was the puppy I never had growing up.  Now we have the real thing – a puppy name Max – and I have to say, taking care of my pound puppy was a lot easier!
This holiday season is going to feel a lot like the 80's with the big return of Pound Puppies from Funrise and I'm sure if your kids have seen them, they've asked for one!  I know my girls have.
Pound Puppies
Pound Puppies, a popular toy line in the 1980s, are back and cuter than ever for the holidays! You can rescue these lovable puppies and give them a new home this holiday season! Each puppy comes complete with its own breed specific fun fact card and heart shaped dog tag. Simply write your puppy's name on the tag and register your puppy online to get your very own printable adoption certificate!
There are lots of Pound Puppies available for adoption just waiting for a new home! You can choose from a Beagle, Labrador, Bulldog or Poodle in three adorable sizes including a 12-inch plush, 6-inch plush, and 3.5-inch plush keychain – perfect stocking stuffers!
My girls are going to be so excited when they see their Pound Puppies under the tree on Christmas.  I love the idea of "Adopting" them and registering them to get an Adoption Certificate.  It really makes these Puppies feel more real to them.  Fortunately they won't make the same mess as our real puppy so they should really enjoy these.  (seriously they do love our Max but don't enjoy helping to take care of him!)
You can also visit the Pound Puppies site to print out Coloring pages and to test your knowledge of dogs with their fun facts!
Which One of these Loveable Pound Puppies do you like most?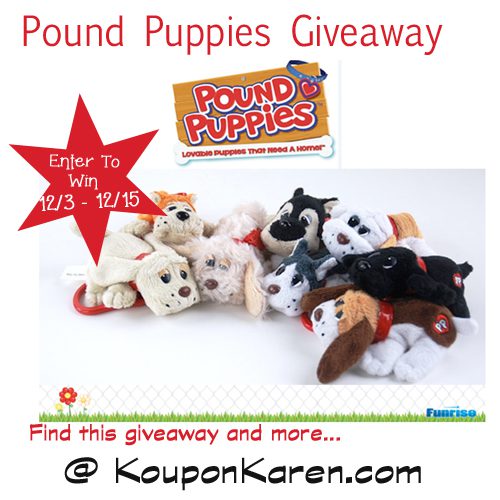 (1) Koupon Karen reader will win One of the Loveable Pound Puppies!

To enter the giveaway, use the Giveaway Tools widget below. Email and feed subscribers will need to click-through to the site to enter the giveaway.
As a reminder, comments left on Facebook or Twitter will not be included. You must follow the instructions on the widget about the proper way to enter. Of course Facebook is in no way associated with this giveaway!
If you are looking for more giveaways, be sure to follow my Fun Giveaways Pinterest board!
Disclosure: I received a Free product for review. My opinions are 100% mine.