This post is Sponsored by Hasbro and Shout! Factory but my opinions are 100% my own!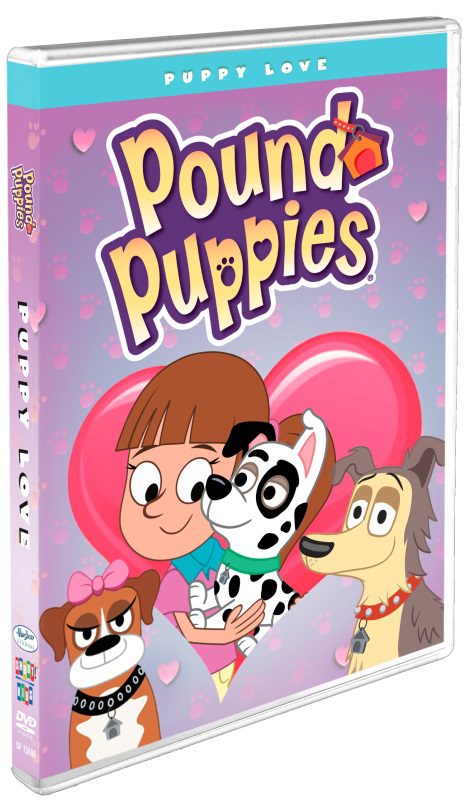 This month you'll get more fun-filled outings starring your Favorite Pups!  You can now bring home Pound Puppies: Puppy Love DVD as of February 3, 2015 from Shout! Factory.   Those adorable little pups can now be on your TV at home.  The DVD features the voice talent of Jim Parsons (The Big Bang Theory)…. he's a favorite of mine!
Don't miss the pup-tastic fun!  Join Lucky, Cookie, Niblet, Strudel and Squirt as they continue on their mission to find a person for every pup with the release of Pound Puppies: Puppy Love on DVD. Featuring five fun-filled adventures perfect for Valentine's Day, this DVD collection is priced to own at about $12.99.
The perfect Valentine's Day gift for your little one!

Every boy and girl should know the undying love of a puppy. That's exactly what the Pound Puppies are for! "A pup for every person and a person for every pup!" That's their motto and they mean it. Join the fearless leader, Lucky, and his crew — Niblet, Cookie, Squirt and Strudel — as they make it their mission to find homes for lonely dogs… and dogs for lonely humans!
Pound Puppies: Puppy Love comes complete with your very own printable valentine that you can share with your favorite pet or human!
Episodes Include:
Toyoshiko! Bark Friend Machine
McLeish Unleashed
The General
When Niblet Met Giblet
Rebound's First Symphony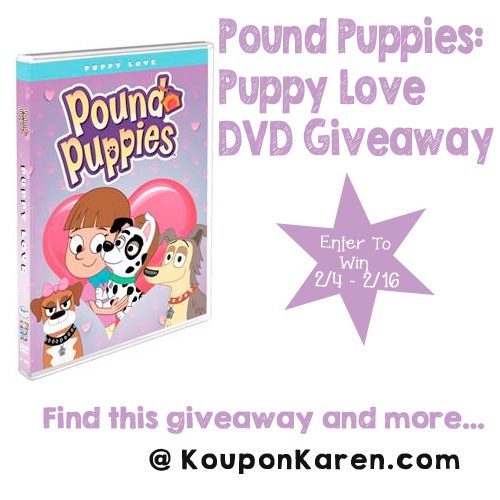 (1) Koupon Karen reader will win a copy of Pound Puppies: Puppy Love DVD.

To enter the giveaway, use the Giveaway Tools widget below. Email and feed subscribers will need to click-through to the site to enter the giveaway.
As a reminder, comments left on Facebook or Twitter will not be included. You must follow the instructions on the widget about the proper way to enter. Of course Facebook is in no way associated with this giveaway!
If you are looking for more giveaways, be sure to follow my Fun Giveaways Pinterest board!
Disclosure: I received a Free product for review. My opinions are 100% mine.