This post is Sponsored by Premier Protein but my opinions are 100% my own
Premier Protein is sharing the good energy and sending one lucky winner and a guest to seize everything San Francisco has to offer. Take a bold bike tour of the Golden Gate Bridge before relaxing at the spa, go off the beaten path for a hike along the beach, or just immerse yourself in the local culture.
Premier Protein San Francisco Sweepstakes
To enter, Premier Protein fans can visit PremierProteinPromos and tell them about their favorite Premier Protein products. The best part? You can enter each week and even earn additional entries by adding a photo or video showing them how your favorite Premier Protein products give you the good energy you need to make the most of your day. Applicants can earn one extra entry for adding a photo and two extra entries per week for adding a video.
The grand prize trip includes round trip airfare for two to San Francisco, three night hotel accommodations, ground transportation to and from the airport and $250 in spending cash (total approximate retail value: $4,399).
I recently had the change to try some Premier Protein bars and shakes.  I like to make sure I get a good balance of protein in my day so these bars and shakes are a perfect way of doing it, especially on days that I don't have time to sit and plan out a meal.  Lunch is my hardest meal to balance.    I was happy to find a great selection of Premier Protein products at my Sam's Club.  They had a great selection to choose from.
About Premier Protein
Here at Premier Protein®, we believe that good nutrition is the fuel for a happy, healthy life. We know it's hard to get lean protein. That's why we make our delicious protein bars – to make powerful, healthy choices easy They are packed with protein without all the sugar and calories*, to give you the energy you need every day. They are ideal for breakfast on the go or an afternoon snack.
*more calories from protein than sugar
Premier Protein has two types of protein bars – one has more protein and less fiber, the other one has more fiber and less protein.  So depending on if you are looking for more protein or more fiber, you can find a bar for you!
30g Protein Bars
Premier Protein bars are available in 6 delicious flavors. Each gluten-free bar is packed with 30g protein, is a good source of fiber (3g), and is a good source of calcium. Whether you're grabbing breakfast on the go or in need of an afternoon snack, these delicious bars help curb hunger and fuel all day long energy.
Available in singles, 5 count multipacks, and 18 and 24 count variety packs.
Flavors: Chocolate Peanut Butter, Dark Chocolate Mint, Double Chocolate Crunch, Peanut Butter Crunch, White Fudge Raspberry and Yogurt Peanut Crunch.
Nutritional Information
Serving Size: 1 bar
High in Protein (30g)
270 – 290 Calories
Good source of fiber (3g)
Good source of calcium
Gluten Free
Proprietary Protein Blend
Fiber Bars
Premier Protein Fiber bars are available in 5 delicious flavors. Each bar is packed with 15g protein, is an excellent source of fiber (7g), has no artificial flavors or colors and is gluten-free. Perfect for snacking, these delightfully crisp bars help curb hunger and fuel all day long energy.
Available in singles, 5 count multipacks and 18 count variety packs.
Flavors: Cookies 'n Cream, Peanut Butter Caramel, Chocolate Mint, Honey Caramel and Chocolate Caramel.
Nutritional Information
Serving Size: 1 bar
High in Protein (15g)
190-200 Calories
Excellent source of fiber (7g)
No artificial flavors or colors
Gluten Free
Proprietary Protein Blend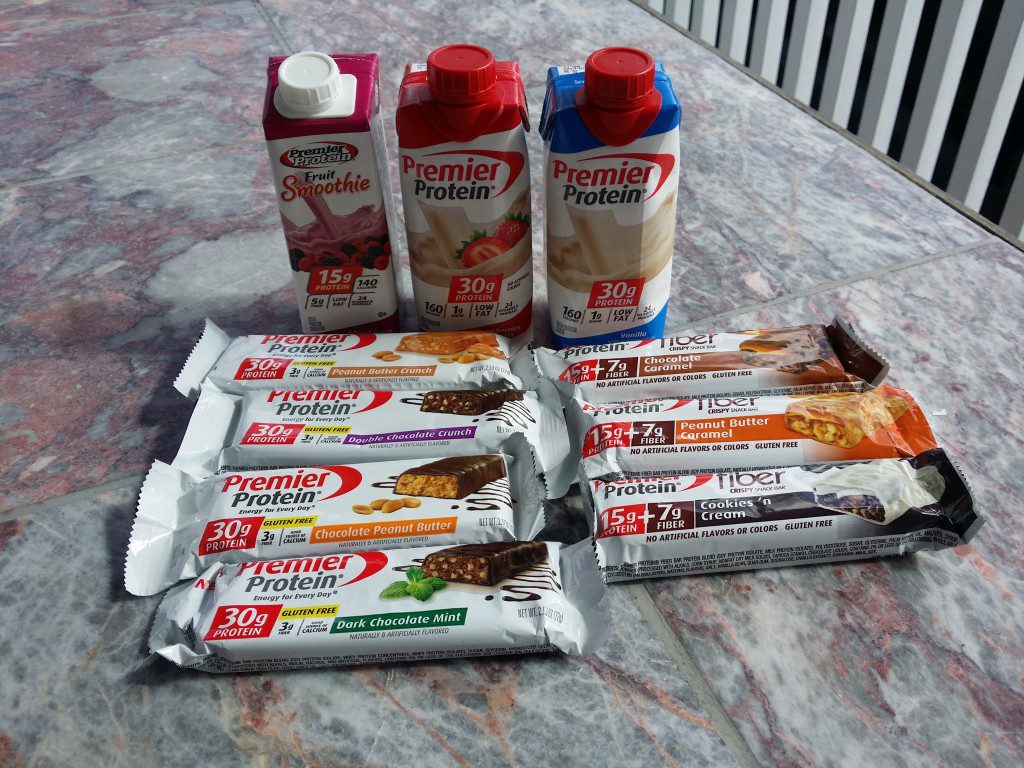 I tried a few of the peanut butter, caramel, chocolate and mint bars.    I loved the combination of flavors and the peanut butter ones seemed to have the most flavor to them – as in you could really taste the peanut butter flavor.  Now I'm a bit partial to peanut butter stuff so naturally they were my favorite.
The Chocolate Mint bar tasted a lot like a chocolate mint cookie and it was delicious.   It's important when you eat a lot of fiber to also drink a lot of water, well these bars definitely helped me down a tall glass of water!
Which flavor of Premier Protein Bars do you want to try?
Disclosure: I received a Free product for review. My opinions are 100% mine.