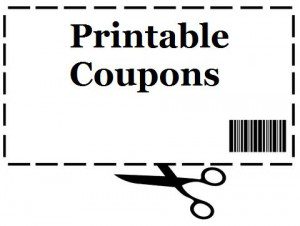 The easiest coupons to get your hands on, if you have a computer, are printable coupons.  In the past couple of years I've seen more and more companies offering them, which is great for us!
I tell you about printable coupons as I find them, but of course I don't know about every coupon there is.   So how can you find other printable coupons that I may not mention?   One way is to check the company website for the brand you use.  A lot of them will have a coupon or two hosted right there on their site.   While your there, sign up for their e-newsletter because when they add a new coupon, most times they will announce it in their e-newsletter.   You may also want to "like" them on Facebook.  I'm amazed at the amount of companies that are using Facebook to reach out to consumers and give them coupons.
You can also find coupons at Coupons.com, Redplum.com and Smartsource.com.  I suggest you check them daily as they add new coupons all the time.  They also take them down without any notice so if you see one you might use, then print it.  They usually have about a 30 day expiration date.
There are a few things you may want to know when printing and using printable coupons:
You can almost always print a coupon twice by hitting the back arrow button.  Sometimes you may get lucky and get a third, I always check just to see!
Set your printer so it only prints in black & white to save money.  They do not have to be printed in color.
You can not make a photocopy of printable coupons!!  This is completely illegal and when people do this, and get away with it, it costs the manufacturer money and in the end they will just end up pulling the coupons and not offer them anymore.  When they release a coupon there are are certain amount of prints available.  If they go beyond that number, it's a loss for them.
Some companies will reset their coupons and let you print them again!  I love when they do this.
You will have to download a program to print your coupons.   There is  no way around this.  You computer won't know what to do without the program.  I've downloaded them all onto my computers but I also have Norton so I don't worry so much.  It's completely up to you.
You can print 2 coupons per computer, so if you have more than one computer in your house, you can print more coupons!  Nice bonus.
If you come across a coupon that is in a PDF format then I guess the company doesn't care how many times the coupon is printed.  However, look at the url of the coupon, it may not be a real coupon.  Most of them will be hosted right on the company website, but of course there are exceptions.  If you think it's too good to be true, it probably is.
Most stores will except printable coupons but it's up to them if they do or not.  There may be one location of a chain store that won't take them because they've had problems with printable coupons in the past.  Your best bet is to ask when you get to the store before you waste your time.
And the most important thing I like to tell people is use scrap paper to print them.  They don't care what's on the other side of the paper.  My friends husband came home with boxes and boxes of his companies old letter head they were tossing out.  He gave it to her to print coupons on.  PERFECT!