This post is Sponsored by Norton and Coupons.com but my opinions are 100% my own!
Have you ever thought about how you could protect your family's information during tax season?  We are in the middle of tax season and I know some of you are doing your taxes on your personal computer.   I miss those days when I could do my own taxes but with my blog business, I have to go to the accountant.  That being said, I still do all my bookkeeping on my home computer.  What did we do before technology?
Whether you are doing your own taxes or bookkeeping, you probably have a lot of personal information stored on your computers, tablets and even your phones! Norton has you covered in protecting all your personal information on all those devices and they asked me to share some information with you on how you can protect your digital presence with Norton Security during tax season.
Protect your Smartphone or Tablet with Norton
Honestly, I never gave it a thought to put security on my tablet or android (love my Galaxy Note, it's my lifeline!) but think about all the personal information you store on your mobile device—photos, contacts, messages—what would you do if your device was lost or stolen?  I'd hate to have someone access all that information.  Norton offers more than just antivirus so you get specialized protection for each device you use.
Protect Your Family's Information During Tax Season with Norton Security and Norton Security with Backup
You also should be concerned about protecting your family's information during tax season when you're storing and submitting sensitive information such as social security numbers and dependents information, etc. You can do that with Norton Security and Norton Security with Backup.  You hear more and more about big companies getting hacked and personal information being stolen.  If they can hack a big company, they can hack you so protect your stuff!
Which Norton product is right for you?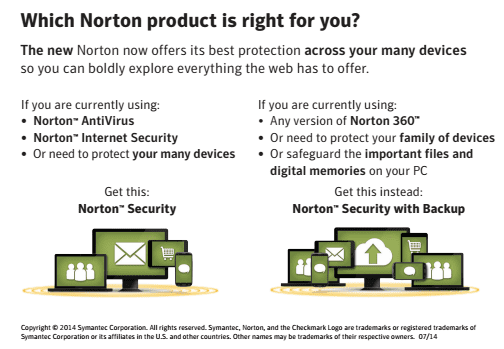 If you already use Norton the above chart will tell you which one is best for you according to your current needs.
Money Saving Coupons
But of course, this will cost you money.  That being said, I can help you save a bit on your purchase!!  Check out the Coupons.com Norton coupon codes to help stretch your dollars in protecting your information.  I truly believe you shouldn't have to pay full price for anything – this included.