This post is Sponsored by FabKids but my opinions are 100% my own!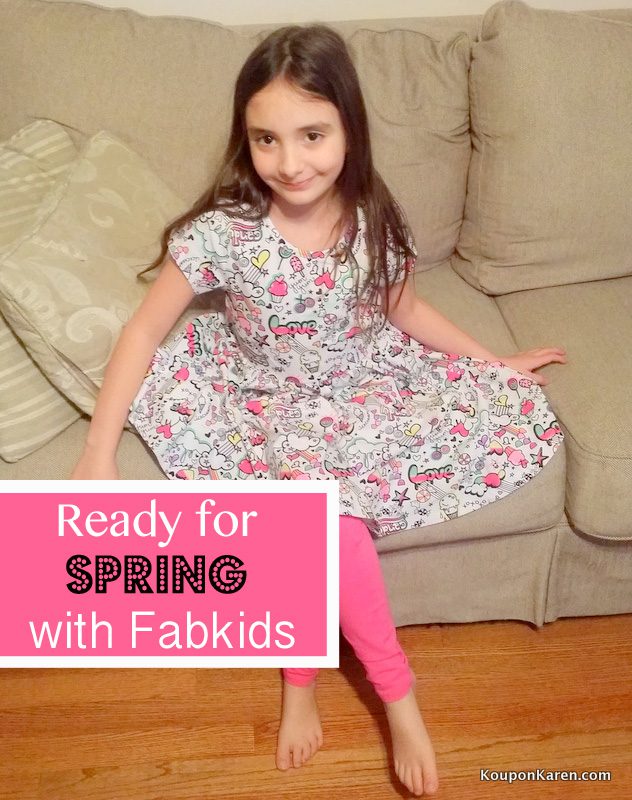 I can't take anymore snow.
I can't take anymore cold.
I need Spring.  badly.
I am Ready For Spring with FabKids!  Well my kids are.
So when I received the February FabKids look book, I was very excited to see some dresses that screamed SPRING!!!  I'm always happy with the selection but it's time to move away from the colors of Winter and onto the colors of Spring.  And FabKids clearly knew that we needed that because their look book was filled with the colors of Spring.
Including this adorable dress for my little one…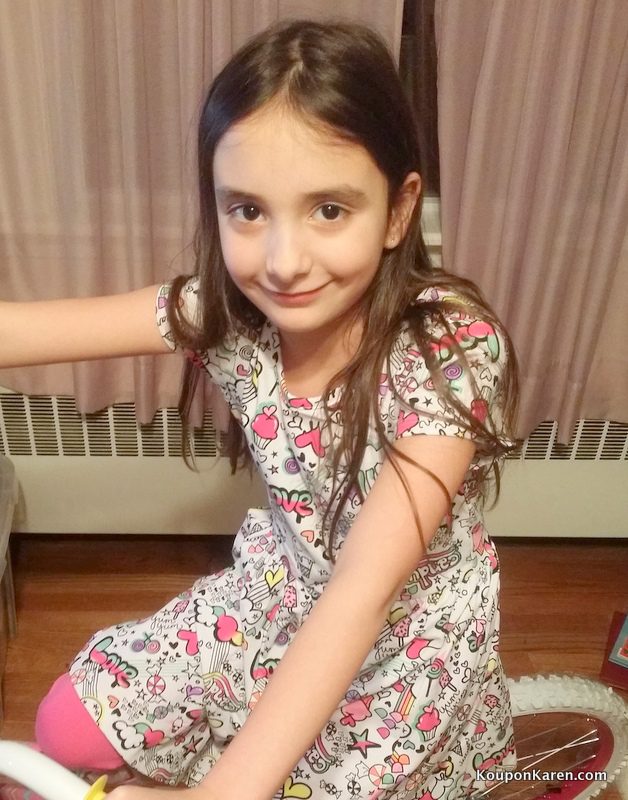 She won a bike at her Father Daughter Dance a couple of weeks ago and since we can't get to our shed (backyard is full of snow and ice!) it's sitting in my living room.  She felt the magic of Spring come over her when she put on this fun  Graffiti Bow Back dress so she jumped on her bike for me to take a picture of her.  (She's too cute!)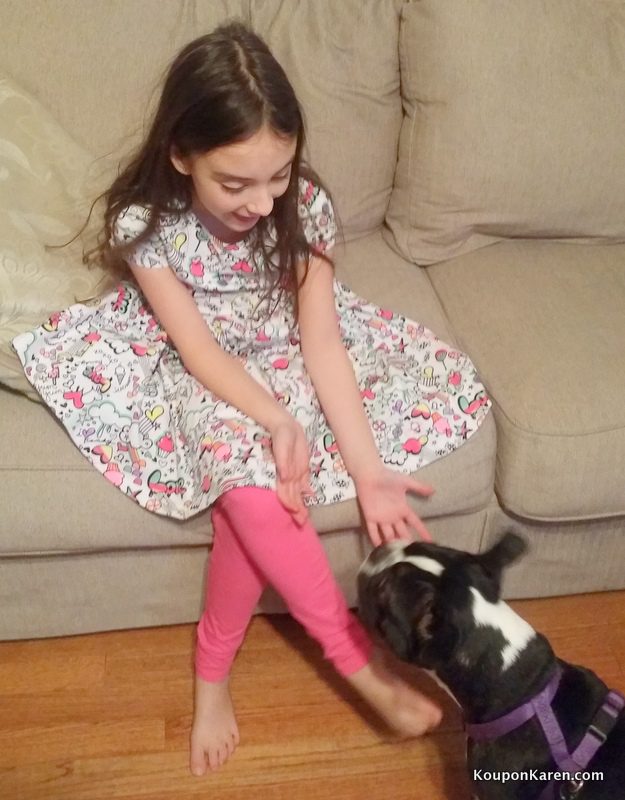 I love the pink leggings as they are amazingly soft and so comfortable (I know I say this over and over again each month!).  The color pink is perfect with this dress.   Our dog Max wanted to get in the picture too.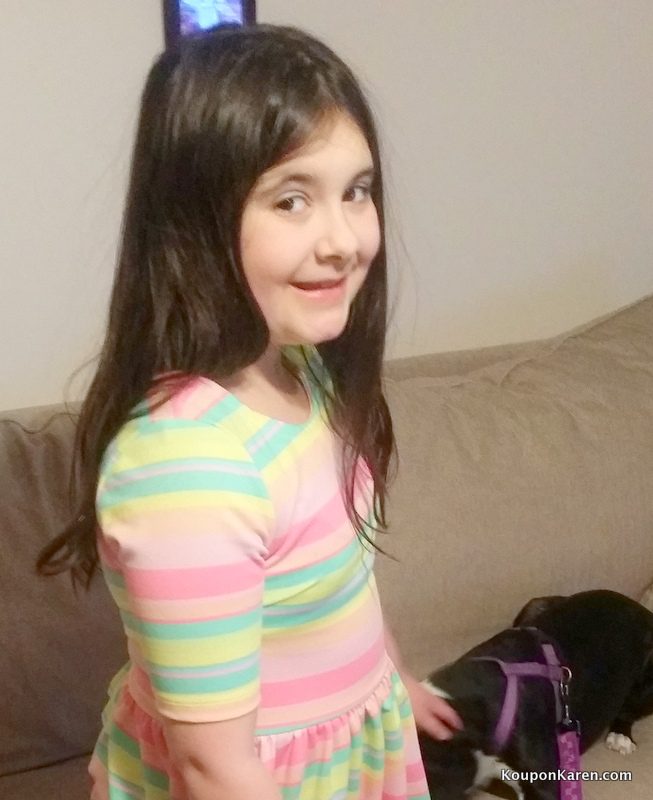 My older girl isn't enjoying picture taking lately.  I think it's her age, but I still take them, it's just harder to get her to smile properly.  But she does love her Rainbow Stripped dress  from FabKids this month with cute Coral Orange Fab Soft leggings.  The colors definitely set the mood for Spring.
Can I just tell you that my little one is excited each month also for her sister's dresses.  Why?  Because she knows she'll get to wear them when she gets bigger!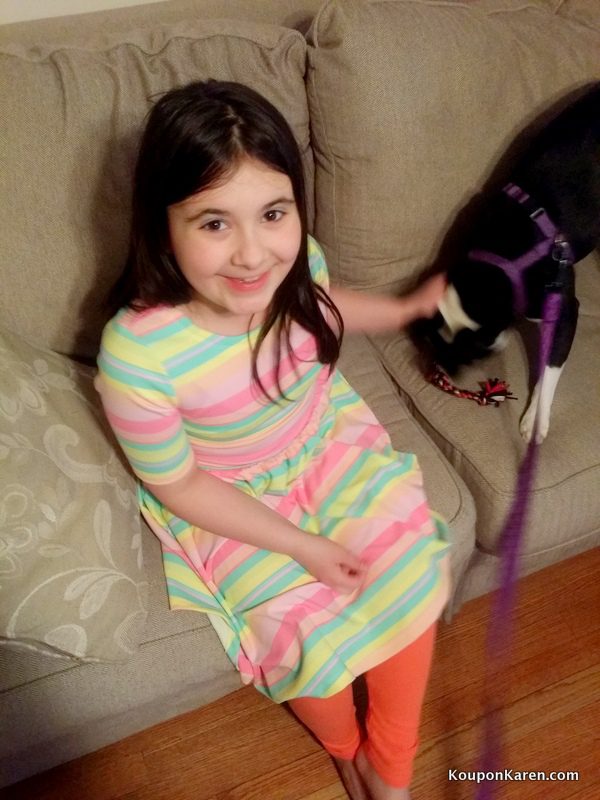 I love my girl in these colors and the stripes are so fun!   She can't wait for it to get warmer out so she can wear this dress even without the leggings.  And with sandals of course!
Please don't mind the hair on these two beauties.  Brushing it si not their thing and we are in a constant battle over it.  I can't wait until they spend more time brushing their hair than anything else.  But then they'll be teens so I'm good with messy hair right now!
About FabKids
FabKids is JustFab's newest fashion club, started by a team of parents including mom and actress Christina Applegate.  FabKids is a convenient way for busy parents to shop. It's an outfit club — so parents get monthly selections of super affordable, high-quality fashions personalized for their kids.  Every outfit includes 2 pieces for just $29.95– so you can get a fabulous dress, paired with leggings OR a top and a bottom, etc.  FabKids is currently available in sizes 2-12 and All FabKids outfits ship free on all orders over $49.  You have until the 5th of every month to "skip the month" or you will be charged $29.95 on the 6th of the month, which will give you one credit to use on the website. One credit gets you an entire 2-piece outfit!   Outfits come in adorable pink boxes for girls and awesome blue packages for boys!
As you know, I've been a fan of FabKids for a long time and I'm really enjoying these monthly looks!  Right now your first outfit at FabKids is only $15.00 + FREE Shipping!  They have tons of cute clothes and my girls love them all!  If you are a regular reader of my blog, then you know this and hopefully enjoy our picks each month from FabKids.
FabKids sizes run from x-small to x-large and I find them pretty true to size.  The leggings have a nice length to them and since they fit snug,  they don't look too long.   The colors are bright and they don't fad when washed.   There are also great options for boys each month so be sure to check them out!
Shop FabKids for Fashionable Clothes
Check out FabKids today.  You'll get a 2 piece outfit for only $15.00 + FREE Shipping!
See all of our FabKids outfits HERE.
Disclosure: I received a Free product for review. My opinions are 100% mine.