Product Name:  Red Rose Simply Indulgent Teas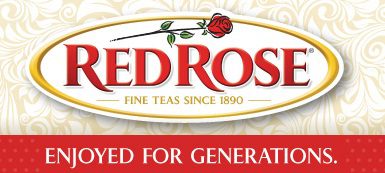 Product Information:   Red Rose Simply Indulgent Teas are new, handcrafted black teas blended with specially developed natural flavor extracts. These blends marry high-quality tea standards with premium natural flavors.
Red Rose Simply Indulgent Teas are have zero-calories, all-natural flavors and are great alternatives to your' favorite desserts.  The new flavors include
Cinnamon Streusel
Crème Caramel
Peach Cobbler
Lemon Chiffon
Red Rose gives tea drinkers the chance to take a "time out" from the constant hustle and bustle of their lives, and relax and savor a moment doing what they want to do.
Visit ReadRoseTea.com for more information!  You can also sign up to receive Red Rose Tea's official e-newsletter, "Tea Readings"  which will include coupons, recipes, food pairings and more.
Purchase Price:  $5.00 for 20 bags of tea
My Thoughts:  My husband is a big tea drinker (Red Rose is his fav too!) and has some everyday.  He usually has the traditional Red Rose tea but when these arrived he tried the Lemon Chiffon and loved it.  He didn't need any sugar or milk, just drank it straight up and he really enjoyed it.   It's not a tea he'd have every day but he has been enjoying it for the past few nights after dinner as a treat.
We received a box of each flavor so while he grabbed the Lemon Chiffon first, I grabbed the Cinnamon Streusel first because that's one of my favorite things to eat.  I was curious what it would taste like in a tea and I was not disappointed.  I did add a little bit of sugar but it was amazing and really tasted like a Cinnamon Streusel.  I'm not sure it could completely replace one but it sure will be a nice substitute when I don't have or can't have the real thing.
Next I tried the Creme Caramel and again I added just a tad of sugar but this one I loved even more than the Cinnamon Steusel!!  I love adding Caramel to my coffee and would never add it to tea but this tea is amazing and so satisfying.  I do not like Peach flavored anything so we haven't tried it yet but I'm waiting for someone to come over that would like to try it.  I'm guessing it's just as good as the rest, just not a flavor we enjoy.
It's amazing that they can put so much flavor into these teas to really taste wonderful and I would serve these any day to our guests!  I really wish Red Rose would make these teas in a K-Cup…. perhaps they will someday!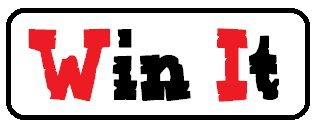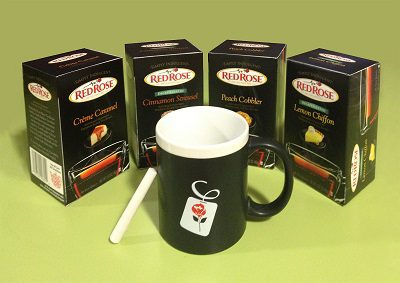 (1) Koupon Karen reader will win all FOUR Red Rose Flavored Teas and a Chalk Board Mug.

To enter the giveaway, use the rafflecopter widget below. You can now sign in with Facebook and it will remember you each time you enter another rafflecopter giveaway. Of course Facebook is in no way associated with this giveaway, the people of rafflecopter just want to make it easier for you to enter giveaways now.
As a reminder, comments left on Facebook or Twitter will not be included.
Disclosure: I received the same prize as the winner for review. My opinions are 100% mine.