This post is sponsored by Colgate. All opinions are 100% my own!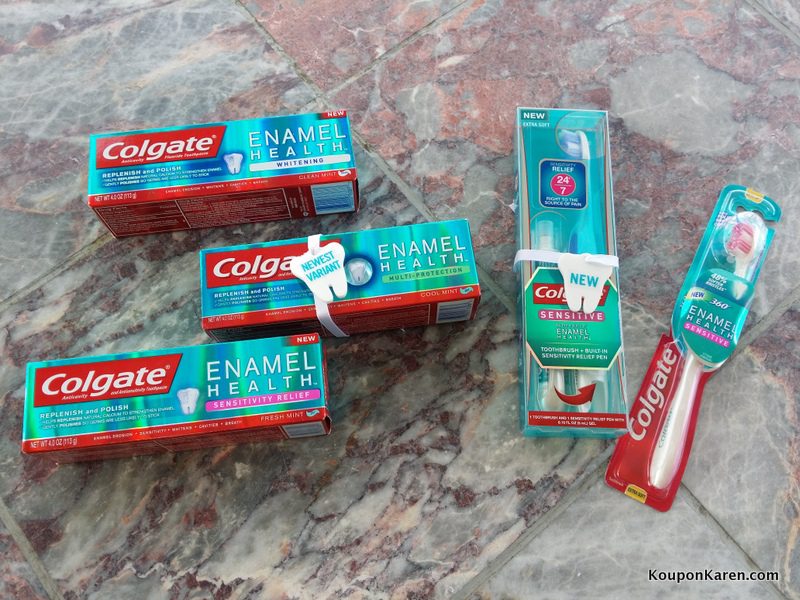 Colgate Enamel Health helps you refresh your brushing routine for Spring with some great products.    Spring cleaning isn't just about cleaning your home, it's also a great time to clean out your medicine cabinet,  bathroom closet and vanity draws.   You can swap out your oral care products with some brand new items from Colgate!
Last year Colgate launched their Enamel Health toothpaste to help replenish natural calcium for stronger, healthy enamel.  Now they've extended that line by adding their newest products Colgate Enamel Health Multi-Purpose Toothpaste and Colgate Sensitive Toothbrush + Built-in Sensitivity Relief Pen.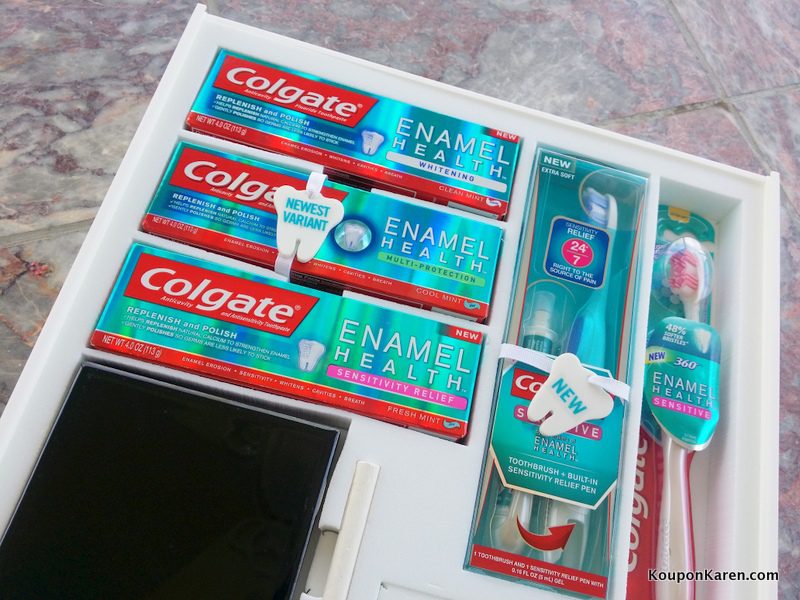 To help me understand how these products work, Colgate sent me a kit to play around with and some products to try!  In the kit I found some chalk and black tiles.  One time was smooth and the other tile was rough.  They encouraged me to write on both tiles to see how the chalk stuck to each time.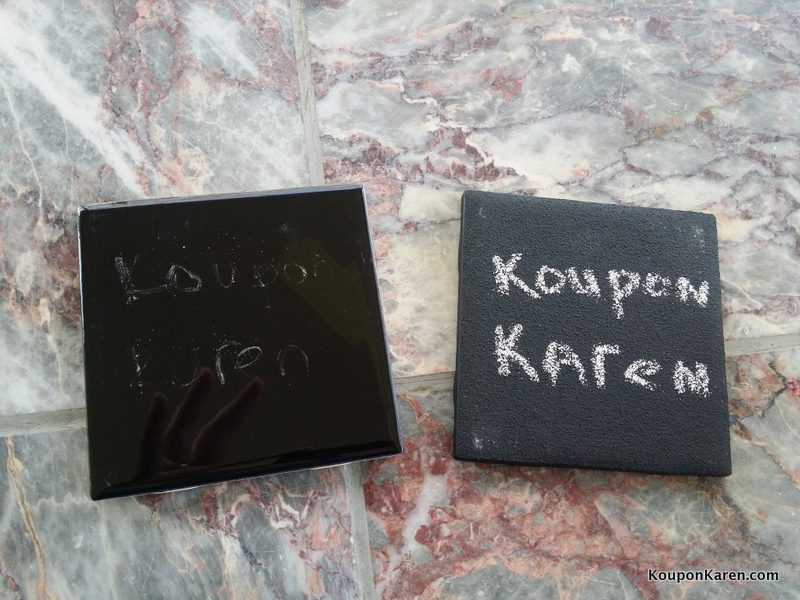 The chalk stuck to the rough tile with no problem at all.  The smooth tile the chalk didn't stick so well as you can see above.  This is how our teeth work.  When the surface of our enamel is rough, germs are more likely to stick to the surface.  When the surface of our enamel is smooth, then the germs are less likely to stick like the chalk on the smooth tile.  It was pretty cool to see and it totally makes sense to me.
When I was younger I didn't realize how important it was to keep my teeth healthy but as I get older I realize it more and more.  If everyone in my family uses these products, then my girls will grow up with healthier teeth and hopefully have less problems as adults.

So the bottom line is this – Using Colgate Multi-Protection toothpaste helps your teeth become smoother so that you are less likely to collect germs!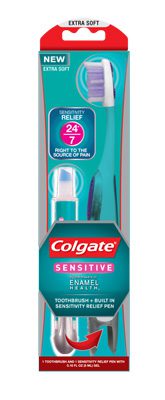 For those of you with sensitive teeth, try the Colgate Sensitive Toothbrush and Built-In Sensitivity Relief Pen!  Just brush with your normal toothpaste, and then use the pen to apply the gel directly to the source of the pain.  It's so easy to do – just massage gently for one minute!  You don't even have to rinse it off.  The gel in the pen creates a seal against sensitivity pain to shield the exposed nerve, which cases the pain.  You can get rapid results using this product in as quickly as one week and have long-lasting relief if you continue to use the product regularly.
I have one area on my teeth where I have some sensitivity issues.  I've been using this daily in that spot and I've noticed a big difference when I drink ice-cold water.  That area is less sensitive and drinking my ice-cold water doesn't hurt as much.  I'm going to continue to use it to see if it will go away completely with daily use.  That would be great!
Colgate Enamel Health also makes a product for those of you that want whiter teeth and they even have a sensitive toothpaste for those that have all over sensitivity issues.  So really something for everyone!
How will you refresh your brushing routine for Spring?