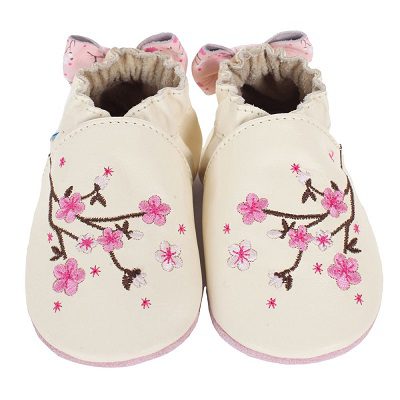 Robeez Cherry Blossoms Review
This post is Sponsored by Robeez but my opinions are 100% my own!
There are so many cute things for babies now that it's hard to not spend a lot on them.  I remember when my oldest was born, I received so many outfits it was crazy.  She didn't wear the same thing twice for a long time.  And I really enjoyed dressing her up.   But one thing I was lacking were shoes that fit her, or rather stayed on her feet.  When babies kick around they usually kick their shoes off.  She needless to say, she wore socks a lot.
One of my friends has a new baby girl and she is really enjoying all the fun outfits she received when her daughter was born.  The last time she visited with me, she had on the cutest shoes.   She told me that they were the only shoes that fit her and they stayed on her feet because they had laces that she could tie tight enough to keep them on.  They were cute, but not as cute as the ones pictured above.
I received the Robeez Cherry Blossom shoes for review and let me tell you, these are even cuter in person than in the picture!  But what I love about them most is they have a nice elastic band around the opening to keep them on the little one's feet.   It's 'tight' enough to keep them on but not to hurt them.  And the shoes are made from a very soft leather so they are flexible and not tight-fitting at all.
These aren't only cute, but functional.
About Robeez
Since 1994, Robeez has been the first choice in pre-walkers. A commitment to superior fit and functionality has always set Robeez apart from the competition. For this new season, we remain true to our heritage while updating our product to capture a modern aesthetic. Through new silhouettes, novelty treatments, and special details, Robeez gains a fresh look while retaining the fun and whimsy that you love.
Disclosure: I received a Free product for review. My opinions are 100% mine.