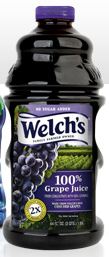 Great Price on Welch's Grape Juice or 100% Fruit Juices at Target right now!!
Heather from Passion for Savings found that Target has them on roll back for only $2.73 each.  When you use the $1.00 Welch's Juice printable coupon you can score yourself some juice at a great price.  My girl's love this, especially the white grape juice but it's so expensive when it's not on sale and there isn't a coupon so I refuse to buy it.
I may have to make a trip to Target.  Too bad the one at the Warwick Mall is still closed from the flood damage.  It's much easier to go to that one.
Thanks Heather!