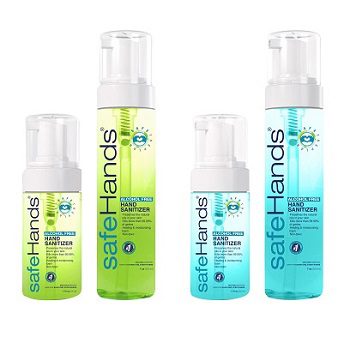 This post is Sponsored by safeHands but my opinions are 100% my own!
With school back in session and cold & flu season approaching in October, now is the time to start thinking about preventative ways to keep your little ones (and yourself) germ-free this school year.  So I'm happy to share with you safeHands and safeSquirts Alcohol Free Hand Sanitizer!
After years of in-depth scientific research and clinical testing, Dr. Jay Reubens, inventor of the first touch-free hand sanitizer dispenser and Dr. David Dyer teamed up to create safeHands® — the proven alternative to alcohol-based hand sanitizer. This non-toxic, foam-based hand sanitizer not only hydrates, but is skin-soothing and kills more than 99.99% of germs on contact.
Did you know there are approximately four shots of vodka in each 2oz. bottle of typical hand sanitizer? safeHands ditched the culprit behind traditional hand sanitizer's undesirable side effects – alcohol – and replaced it entirely with Benzalkonium Chloride (BAC), the same ingredient in mouthwash and eye drops, to create a hand sanitizer that is tough on germs and SAFE for skin. The rich formula of every safeHands® bottle moisturizes the skin without leaving hands irritated, dry and flaky. safeHands can currently be found in select Target stores nationwide and online at www.getsafehands.com .
I'm not really a germaphobic but I worry about the germs the girls pick up at school because they spend so much time with their classmates.   They can't help spread germs but this mom doesn't like to have sick kids all winter long.   But I also don't like the way some hand sanitizer's dry out my hands or my girl's hands.  I've used safeHands for a while now and I really like it and it doesn't dry out our hands.  I keep one in the car and in a few rooms in the house so we always have them handy.
I also love that they don't have alcohol because that just makes them safer for my kids.  I can't believe that they use shots of vodka in other hand sanitizer's.  I had no idea and that's a huge turn off to me!  I understand they need to kill the germs but that's not the only way it can be done.
These foam hand sanitizer's also make it fun for the kids, the safeSquirts line, which is made for kids, comes in fun scents like cool blue, tooty fruity and bubble gum.  But even the safeHands for adults comes in fun scents like cucumber mint (my fav!) and clean linen.   They all leave a light scent on your hands which isn't over powerful.
Have you tried safeHands or safeSquirts?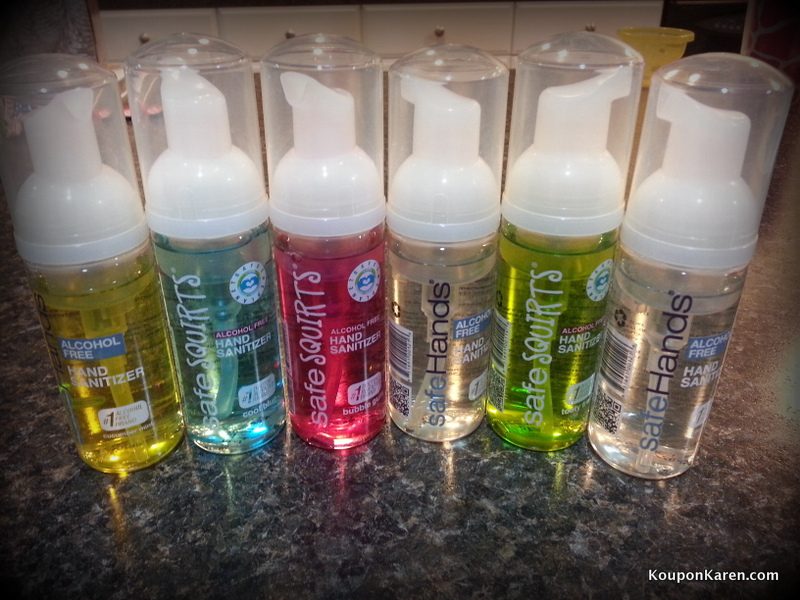 (1) Koupon Karen reader will win a safeHands and safeSquirts germ-free kit!

To enter the giveaway, use the Giveaway Tools widget below. Email and feed subscribers will need to click-through to the site to enter the giveaway.
As a reminder, comments left on Facebook or Twitter will not be included. You must follow the instructions on the widget about the proper way to enter.   Of course Facebook is in no way associated with this giveaway!
Disclosure: I received a Free product for review. My opinions are 100% mine.