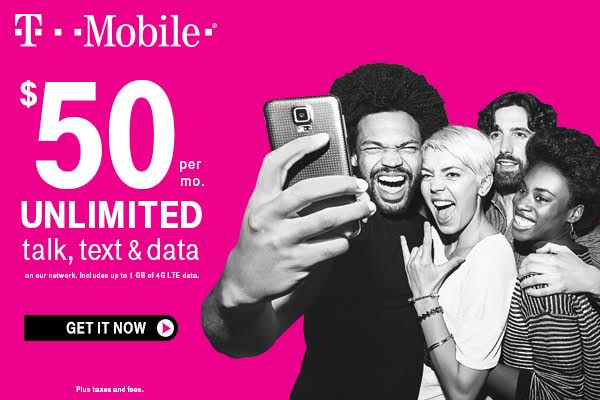 My family has been with T-Mobile for years.  One reason I've stayed so long is they are always coming up with new ways for us to save as much as we can,  yet have all the bells and whistles that we need in a mobile phone.  Right now they have a great plan called the Simple Choice plan, which is a postpaid plan.  That means you aren't billed until the end of the month of usage.  The Simple Choice plan starts out at $50 for unlimited talk, text, and 1GB of 4G LTE data.
Save with the T-Mobile Simple Choice Plans
The plan includes the following perks:
Unlimited talk, text and data while on our network with no overages or annual service contracts.
NOW! Includes unlimited calls and text to and from any number, including mobile phones, in the U.S., Mexico, and Canada. PLUS use your monthly 4G LTE data in Mexico and Canada like in the U.S., at no extra charge.
Data Stash™ rolls your unused 4G LTE data forward in to the next month, for domestic use in the next 12 months. Available with 3GB and 5GB data options.
Music Freedom™ with unlimited music streaming on our network from top services such as Pandora and iHeart Radio without using your data.
Unlimited data and texting when you travel to any of 120+ countries and destinations so you can stay connected when you're abroad.
Jump! Upgrade to the latest devices earlier and more often while also protecting your investment with Premium Handset Protection® and Lookout Mobile Security® Premium. $10 per month.
Wi-Fi Calling: every Wi-Fi connection works like a T-Mobile tower.
Smartphone mobile hotspot: Use your device as a Wi-Fi hotspot
Add a tablet or hotspot to existing plans for $10 per month.
Now you have to admit, that plan looks pretty good.  But if you aren't already a T-Mobile customer, why should you switch? I thought you might asked that so here are some good points to consider:
Data Stash roll over is 12 months with T-Mobile vs. AT&T 1 month.
Music streaming counts against your data on other carriers.
Free international text/data and calling (to/from) Mexico/Canada as included are not available on other major carriers.
Switching without a hitch. T-Mobile pays early termination fees and remaining phone payments.
Prepaid plans are 4G LTE and include everything below.
No contracts. No overages. And phone payment plans.
Wi-Fi calling is big for areas with limited coverage or overseas.
Free 7-day trial to see if it works for you
T-Mobile offers 25% off accessories every day online.
These are my favorite deals:
Save $48 off Smartphones and Tablets for US College Students and US College/K-12 Staff
Simple Choice Plan – $50 for Unlimited Talk, Text, & Data
Simply Prepaid Plan – $40 for 4GB and Unlimited Talk & Text
**Must complete order online only to get credit. No telesales orders or upgrades. New line of service required.
Looking for something else?  Check these T-Mobile Coupons for more deals to make your dollars stretch even further!
Enter below to win a $300 Target Gift Card! This giveaway ends September 3, 2015.
This shop has been compensated by Coupons.com. and its advertiser. All opinions are mine alone.
This shop has been compensated by Coupons.com. and its advertiser. All opinions are mine alone.