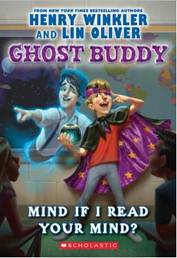 Product Name: Scholastic Book Ghost Buddy #2: Mind If I Read Your Mind?
Product Information:   "Billy and Hoover are back in the hilarious new series from bestselling authors Henry Winkler and Lin Oliver! It's time for Moorepark Middle School's annual Speak Out Challenge, and Billy Broccoli thinks he's got it made. With his best friend Hoover Porterhouse—the ghost with the most—by his side, Billy's got the competition in the bag. Who wouldn't vote for a demonstration on mind reading?
 But when Billy lands a spot on the sixth-grade team, he starts spending more time with his new teammates than he does with Hoover. And the Hoove plays second fiddle to no one! If Billy's not careful, his secret weapon might just vanish into thin air, leaving Billy to pick up the pieces of a demonstration-day disaster!"
My Thoughts:  My daughter isn't into reading 'Ghost Stories" so when I first showed her this book, she wasn't interested.  Since I hadn't read book #1 Ghost Buddy: Zero to Hero I read that one first.  At the beginning I thought perhaps it was good that she wasn't reading it then as I read more I realized that it's actually pretty comical and also teaches some nice valuable lessons.   Billy is the new kid in town and being the new kid in school isn't always easy.  But of course he gets through it and ends up being everyone's Hero.
Book one was an easy read – considering I'm in my 30's (we'll leave it at that) so it should be easy – and I ended up reading it in one day.  I loved it!  However I'm sure a 9 year old would take a bit longer to read it.   It's a very good size chapter book and probably perfect for my daughter who is in the 2nd grade.  She could easily read this book.
Honestly, I couldn't wait to read Book 2 – Mind If I Read Your Mind? and my husband laughed at me as I laid in bed the following night reading the second book.   I truly enjoyed them both – I loved the friendship that Billy has with the Hoove – very realistic, and I love the lessons they teach each other.  Being a kid is so hard and having a personal ghost could have its advantages for sure – think of all the tricks you could play on people if someone invisible could do things for you.  And when Billy finally (I say finally because I was surprised they didn't think of something like this sooner – of course this is just a book!) takes advantage of his invisible friend abilities he realizes it may not have been the best thing to do.  I don't want to give anything away but it's a good lesson to learn – so a good book for kids.
After I completed the books myself I started talking to my daughter about them and how they aren't really scary so we've decided that I would start reading the first book with her and then once she finds out how non-scary it is, she can finish because I think she'll really enjoy the stories.  Especially since we just moved to a new neighborhood and a new school. She can probably relate to Billy a lot being the new kid in town.   Of course I really hope she doesn't start talking to an invisible friend from her closet.
This book is from Scholastic and it fits right in with what I think of when I read a book from Scholastic.  Perfect story for the kids, age appropriate of course and some good valuable lessons to learn.  And of course so true to life – well the lessons are, not the ghosts.
I can't wait for Book #3 to come out!  I will be getting that for sure.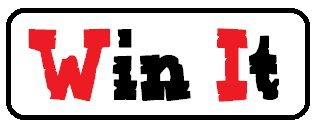 (1) Koupon Karen reader will win a copy of Ghost Buddy: Zero to Hero AND Ghost Buddy: Mind If I Read Your Mind?!!

To enter the giveaway, use the rafflecopter widget below. You can now sign in with Facebook and it will remember you each time you enter another rafflecopter giveaway. Of course Facebook is in no way associated with this giveaway, the people of rafflecopter just want to make it easier for you to enter giveaways now.
As a reminder, comments left on Facebook or Twitter will not be included.
Disclosure: I received the same prize as the winner for review. My opinions are 100% mine.